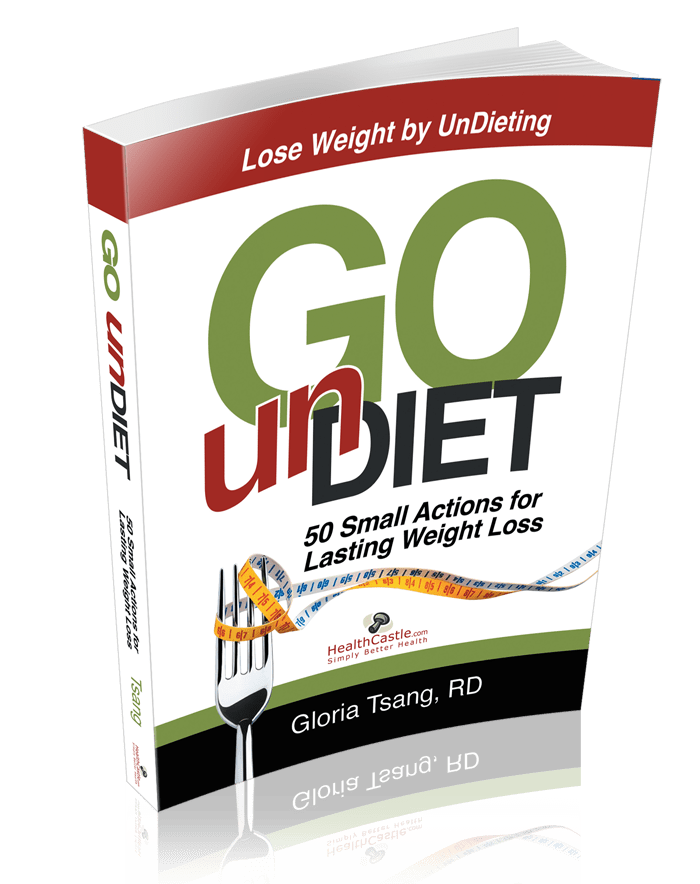 Go UnDiet
50 Small Actions for Lasting Weightloss
You won't find a diet plan in this book. Instead, you will learn how you can can lose weight for good by undieting!
This is not another "miracle" diet plan. Instead, Go UnDiet is a guide designed to help you lose weight for good by making small changes, one step at a time.
READ THE FIRST CHAPTER OF GO UNDIET NOW!
Author: Gloria Tsang, RD
We commissionsed a survey of more than 1,000 women and here is what we found out:
We still believe in diets: Only 18% of women have never been on a diet. That means a total of 82% of women have dieted at least once in their lifetime.
We really believe in diets: Half of women - exactly 50% - have been on 5 diets or more.
Those diets are clearly not working: 33% of women have been on 10 diets or more.
It's hard to get off the roller coaster: A shocking 5% of women have tried 50 diets or more. That's 2 diets a year for 25 years!
The startling numbers make one thing particularly clear. No one who successfully loses weight and keeps it off after one diet would go on to try 4 more, or 49 more! Go UnDiet finally breaks the roller coaster cycle by explaining how you really can lose weight for good with no rigid diet plan, no counting calories, and no harsh food-banning rules.
READ THE FIRST CHAPTER OF GO UNDIET NOW!