5 Steps to Getting Kids to Eat More Vegetables

We all know we should eat plenty of vegetables, and we know our kids should too. But many parents have a hard time getting their kids to eat one serving of vegetables each day, let alone "plenty." Vegetable requirements depend on age and other factors, but generally your child may need two to four servings of vegetables a day. Below are ideas that will make meeting the recommendation more realistic.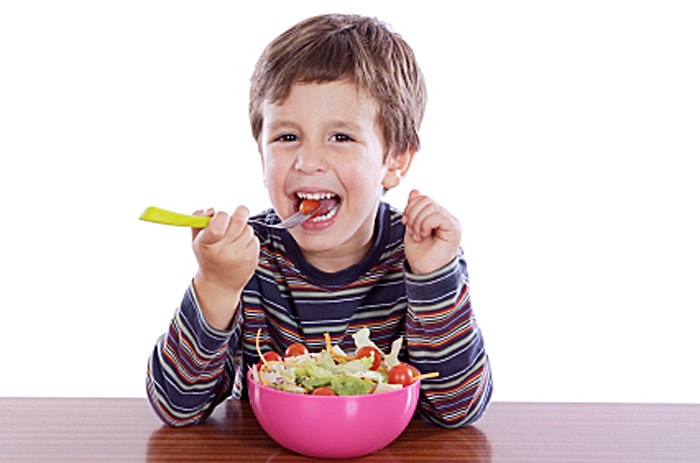 Here are 5 Ways to get Kids to Eat More Vegetables
Make it fun

Serve "Ants on a Log:" spread natural peanut butter onto celery sticks and top with raisins (or not); your child may also dip carrots sticks or baby carrots in peanut butter.
Make a vegetable pizza and pile on veggies such as artichoke hearts, fresh or sun-dried tomatoes, bell peppers, onions, spinach, olives, and mushrooms.
Prepare a salad with vegetables you've never used before, such as baby corn or whole kidney or black beans. Add fruit, cheese, or unsalted nuts to make it tastier; top it off with your child's favorite salad dressing.
Kids often enjoy popping miniature tomatoes in their mouths; try cherry, grape, or plum.
Salsa and tomato-based spaghetti and pizza sauces count as vegetables, making it easy and fun!

Hide them

Provide low-fat dip or dressing, such as Ranch, for dipping fresh vegetables. Serve unique veggies such a jicama sticks and yellow or orange bell pepper strips.
Add vegetables to casserole dishes.
Prepare vegetable-based soups.
Throw pureed vegetables into casseroles or soups. For younger kids, try serving a vegetable puree, such as carrots or peas, as-is or mixed in with a favorite food.

Be creative – try something different

Some kids prefer raw vegetables over cooked, but your child may be the opposite.
Don't be afraid to experiment. Serve a vegetable you've never served before, or prepare a vegetable differently than you have in the past.
Make vegetables interesting by serving them shredded or julienned. Mix shredded carrots into applesauce for young children, or put them on a peanut butter sandwich – with or without raisins – for older kids.

Don't give upA child may need to be exposed to a certain food 10 to 15 times before he will actually eat it. Continue to offer a variety of vegetables even if your child refuses to eat them.
Look for inspiration in kid-focused cookbooksA recent favorite is The Sneaky Chef: Simple Strategies for Hiding Healthy Foods in Kids' Favorite Meals by Missy Chase Lapine. Vegetable-packed recipes include "Masterful Mac 'n' Cheese" (with cauliflower and zucchini) and "Brainy Brownies" (with spinach, along with blueberries, wheat germ, whole wheat flour, and oats).
The Bottom Line
Perhaps the best advice is for parents to be positive role models, as well as patient. If children are regularly served a variety of vegetables and watch their parents enjoy them often, they are more likely to eat vegetables as they grow older.

Alumni: Seattle Pacific University – Keeley graduated Summa Cum Laude from Seattle Pacific University with a Bachelor of Science in Food and Nutrition and a Dietetics Specialization. She went on to complete her dietetic internship at Baylor University Medical Center in Dallas, where she received the Distinguished Dietetic Intern Award and Scholarship.