Asparagus: Health Benefits and How-To
In celebration of the growing season, we're showcasing the one vegetable that is at its peak in the spring: asparagus. These succulent, crispy, sweet stalks are in fact the spears of an underground "crown." When first planted, asparagus cannot be harvested until the third year. Early harvest of asparagus yields pencil-thin stalks; the stalks get thicker as the season goes on. Both thin and thick stalks can be tender, as long as they are fresh. The three types of asparagus you are likely to find domestically are green, white, and purple asparagus. White asparagus has basically been grown and harvested without the stalks ever seeing any sunlight, so they therefore lack chlorophyll. They are prized highly in many European countries, and tend to cost more than the green asparagus.
Nutrition Tidbits for Asparagus
One cup of boiled asparagus contains:

Calories: 40 kcal
Fat: 0.4g
Carbohydrates: 7.4 g
Protein: 4.3 g
Fiber: 3.6 g
Glycemic Index (GI): Low (below 55)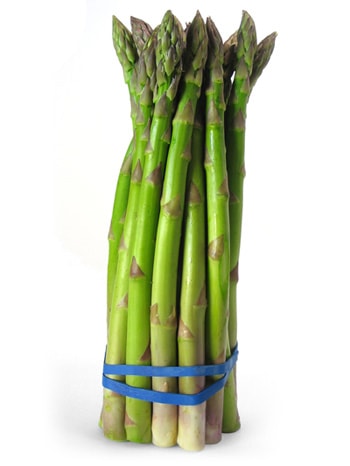 Besides being low in fat and high in fiber, asparagus is an excellent source of folate, a micronutrient that is important in the proper functioning of the cardiovascular system, as well as for the prevention of neural tube defects in the growing fetus. Asparagus is also a great source of Vitamins A, C, and K, as well as the other B Vitamins and potassium.
When buying asparagus, look for firm stalks with tightly closed buds. Avoid any with slimy or crushed tips. Store them upright inside a jar with a bit of water, or wrap the bottom part in a damp paper towel. Once purchased, use them up fairly soon as the stalks begin to lose sweetness as soon as they are cut. To prepare asparagus for cooking, bend the stalk to let the woody, tough end snap off naturally. Never overcook asparagus because it will turn limp and mushy; they are at their best when tender-crisp (cutting with a fork still meets with a slight resistance).
Ways to Include More Asparagus in Your Diet
Stir-fry, roast, or grill asparagus as a quick and flavorful side dish.
Blanch or steam the stalks and use in your favorite salads, pastas, or casseroles.
Use cooked asparagus as a filling in wraps, sushi or spring rolls.

Alumni: University of California, Berkeley – Sofia believes in bringing back fun and pleasure into everyday eating. She loves cooking, and is constantly experimenting with ingredients, creating recipes and trying them out on family and friends. Her latest interest lies in finding realistic and practical ways of environmentally-friendly food/eating habits.
asparagus, fiber, grocery aisle, healthy every month, vegetables, vitamins
What Is Mangosteen's Real Deal?