How to Choose the Right Granola Bar for You
Grocery store shelves have been cleared of holiday fare, which has been replaced with healthier food choices for the new year. Some really noticeable items on store shelves are snack, cereal, and granola bars. How do you pick the best bar for your nutrition needs?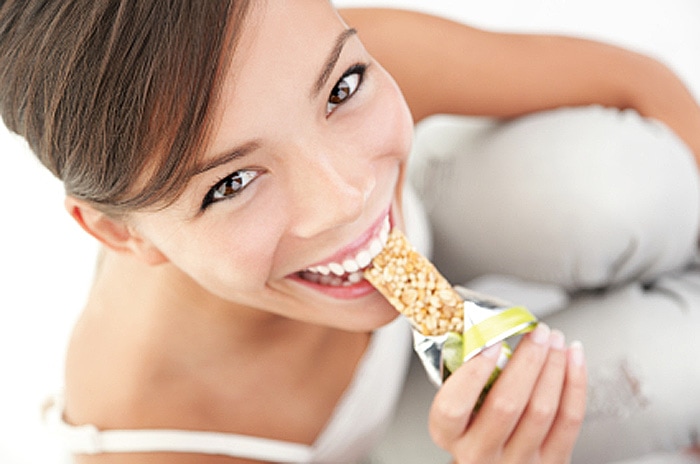 Are All Bars Created Equal?
Granola bars:These usually contain a greater combination of ingredients than other bars, like nuts, dried fruit, and, of course, granola. In general, granola bars can be higher in calories and protein than other bars, so they are often marketed as high-energy foods for athletes or campers, or even as meal replacements.
Cereal bars:As their name implies, cereal bars contain mostly grains (think Cheerios). They tend to be lower in calories and are less dense compared to granola bars. They are "light" in terms of taste, which makes them an ideal choice for breakfast on the go or paired with a piece of fruit.
Snack bars:Both of the above types of bars can be considered "snack" bars, i.e., they can be eaten at any time of day. However, there are also specific bars that are promoted as in-between-meal "snack bars." These snack bars may be promoted to help curb appetite and thus promote weight loss. These types of snack bars are usually higher in fiber and slightly higher in calories than cereal bars.
Bars Designed for Snacks or Breakfast:
Special K Breakfast Bar, Vanilla Crisp: 90 kcals, 2 grams protein, 0.5 grams fiber
Nature Valley Granola Bar – Crunchy, Oats 'N Honey: 90 kcals, 2 grams protein, 1 gram fiber
Kashi Diet Bar, Pumpkin Pie: 120 kcals, 4 grams protein, 4 grams fiber
Quaker's Chewy, 25% Less Sugar, Peanut Butter & Chocolate: 100 kcals, 1.5 grams protein, 3 grams fiber
Powerbar Pria, Mint Chocolate Cookie: 110 kcals, 5 grams protein, 1 gram fiber
Bars with Higher Calories and Protein:
Luna Protein Bar: 180 kcals, 12 grams protein, 3 grams fiber
Bear Naked Pure & Natural Granola Bar: 240 kcals, 4 grams protein, 4 grams fiber
Clif Bar, Black Cherry Almond: 250 kcals, 10 grams protein, 5 grams fiber
Powerbar Protein Plus, Chocolate Brownie: 360 kcals, 30 grams protein, <1 gram fiber
The Bottom Line
Whether you are trying to lose weight, increase the fiber in your diet, or have a light dessert, there are plenty of snack, cereal, and granola bar choices available to meet your needs. Your taste and texture preference will most likely be the biggest deciding factors for the one you choose. But also look closely at the nutrition facts label to determine which bar is best suited to your own nutrition needs.

Alumni: University of Florida – Sejal is a registered dietitian, a certified diabetes educator and she holds a masters degree in nutrition and health. Sejal was the project coordinator for the Veteran's Administrations (VA) national weight loss program and previously worked for the VA hospital in Tampa, FL as a Spinal Cord Injury dietitian.
Sejal has had numerous clinical and community education experiences, including pediatric and intensive care nutrition support. She has also had the opportunity to teach nutrition courses at the community college level to students interested in pursuing health professions. One of her favorite areas of education is diabetes management.