Potato: Health Benefits and How-To
Once banished from the table by carb-fearing dieters, the humble potato is making a comeback. While it is still a staple food in many households, most people don't realize that the potato is actually very nutritious. Naturally low in fat, this versatile vegetable can be served in a variety of ways and is the perfect starchy comfort food to enjoy as the weather turns colder.
Nutrition Tidbits for Potato
One medium, 212-gram potato (uncooked, with skin) contains:

Calories: 164
Fat: 0.2 g
Carbohydrates: 37.2 g
Protein: 4.3 g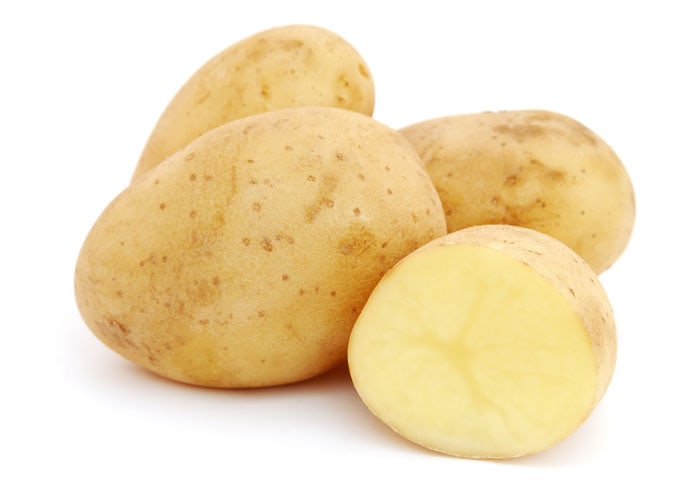 As low-carb diets become less common, the potato is being welcomed back to the dining table – and with good reason! One medium potato essentially contains no fat, sodium, or cholesterol, and is also quite low in calories. In addition, it provides 45% of the daily recommended value of Vitamin C and is a good source of potassium (900 mg per medium potato). Potatoes have earned a bit of a bad image because they can be eaten in many unhealthy ways, such as french fries, potato chips, or baked and covered with sour cream and butter. However, if prepared in a healthy way, with the skins included, they can be a very nutritious food indeed.
Ways to Include More Potato in Your Diet
Remember, the only way to enjoy the full nutritional benefits of a potato is to eat it with the skin.
Add potatoes to any soup or stew.Enjoy roasted potatoes seasoned with herbs.
Eat mashed potatoes with skins included, prepared with low-fat milk.
Enjoy baked potatoes, without butter and sour cream.Skewer potatoes with other vegetables and meat on kebabs.
Create healthy french fries by baking – never deep frying – your potatoes.
Add potatoes as filler for pot pies, casseroles, and lasagnas.

Alumni: University of British Columbia – Gloria Tsang is the author of 6 books and the founder of HealthCastle.com, the largest online nutrition network run by registered dietitians. Her work has appeared in major national publications, and she is a regularly featured nutrition expert for media outlets across the country. The Huffington Post named her one of its Top 20 Nutrition Experts on Twitter. Gloria's articles have appeared on various media such as Reuters, NBC & ABC affiliates, The Chicago Sun-Times, Reader's Digest Canada, iVillage and USA Today.