Written By: Beth Ehrensberger, RD
Last Updated on:
Let's be clear, we do not advocate eating at fast food restaurants frequently. But in the real world, there are times that bring us into these fast food chains. So if and when that tiem comes, this article will help you choose a better option.
You're in a hurry and you're hungry. Add to that the fact that you're traveling and there are only fast food restaurants for miles, and you can be in for mealtime trouble. If you were at home with more time and options, your best bet would be to pass on the fast food and brown bag your meal. Even if you dig through the greasy fare on the drive-thru menu to find the few selections that keep calories and fat within reason, fast food – even healthy fast food – still has more sodium than you need. But if you are faced with fast food or no food, use our guide to select a better-for-you healthy fast food meal, each with 400 calories or less.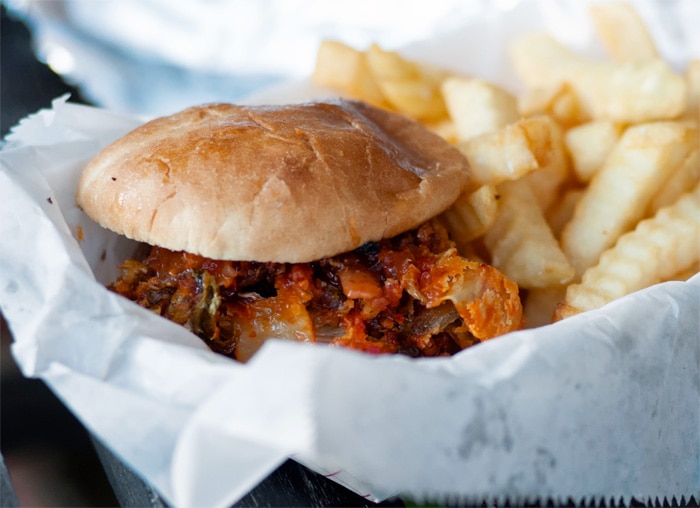 Healthy Fast Food Starts
McDonald's Egg McMuffin:
Not only does this sandwich make easy work of on-the-go dining, it makes a filling breakfast with 18 grams of hunger-curbing protein. Just be sure to stop at the sandwich; adding hash browns will tack on an extra 150 calories and 9 grams of fat. Instead, order a small OJ.
Starbucks Perfect Oatmeal:
Even the lower fat versions of the coffee cakes and muffins at Starbucks can deliver over 300 empty calories. Avert your eyes from the pastry case and choose a hot cup of whole grain perfection instead. Bonus of choosing the oatmeal: you can select your choice of oatmeal toppings: brown sugar, dried fruit, or nuts.
Healthy Fast Food Mid-Day Meals
Subway "6 Grams of Fat or Less Menu" Sandwiches:
Choose from an entire mini-menu of tempting sandwiches, like Sweet Onion Chicken Teriyaki. But take care to stick to the "6 grams of fat" sandwich formula – adding sauces, mayo, oil, or cheese will ratchet up the calories and fat. If you're looking for extras, load your sandwich with the variety of fresh veggie toppings..
Wendy's Mandarin Chicken Salad:
When you're traveling it can be hard to find vegetables, but a big salad from Wendy's can ensure you're not homesick for greens. As is the case with most fast food salads, it's important to use as little of the dressing packet as you can, and pass up the extras – in this case, the crispy noodles and almonds.
McDonald's Fruit and Yogurt Parfait:
If you're looking for a light, vegetarian lunch or snack, a calcium-loaded yogurt can fit the bill. Pair it with a Caesar salad dressed with the low fat balsamic vinaigrette instead of the regular Caesar dressing, and you'll have a healthy meal.
KFC Tender Roast Sandwich:
You can choose to have your sandwich with or without sauce. If you go sauce-less you'll bank 100 calories and 11 grams of fat (Starbucks Light Frappucino later?), but if you do add the sauce, you'll still enjoy lunch for 400 calories.
Healthy Fast Food Dinners
KFC Grilled Chicken:
Despite the name, not everything at KFC is fried. If you go with a grilled chicken breast, you'll still have enough calories left over to add some fiber to your meal, like a serving of three bean salad and a small ear of corn on the cob.
McDonald's Premium Grilled Chicken Classic Sandwich:
As long as you skip the mayo on your sandwich, you can slip in below 400 calories. If you're willing to invest a few more calories, you can add a side salad dressed with half a packet of low fat balsamic vinaigrette.
McDonald's Hamburger:
If you're really hankering for a hamburger, McDonald's is the place to give in, since the beef patty in a plain hamburger is small. But pass on the usual side of fries and order a side salad instead.
Pizza Hut Thin 'N Crispy Veggie Lover's Pizza:
If only pizza will do, make sure you order a thin crust, skip the meats and extra cheese ,and load up on veggies – and stop at 2 slices.
The Bottom Line
You can find healthy choices at fast food restaurants in a pinch – just beware of the other high fat temptations lurking on the menu!
Rememebr, eating fast food can cause your calorie and fat intake to increase considerably, but it doesn't have to be so. Below is a listing of alternate foods you can choose to save on calories and fat grams!
Instead of a……

Try a…….

McDonald's

Hotcakes and Sausage (770 calories, 33g fat)

Filet-O-Fish
(400 calories, 18g fat)

Egg McMuffin
(300 calories, 12g fat)
Hamburger
(260 calories, 9g fat)

Subway

Chicken Bacon Ranch Sub
(530 calories, 25g fat)

SW Chipotle Sauce
(100 calories, 10g fat)

Subway Club
(320 calories, 6g fat)
Honey Mustard Sauce
(30 calories, 0g fat)

Wendy's

Big Bacon Classic
(580 calories, 29g fat)

Jr Cheeseburger
(320 calories, 13g fat)

Taco Bell

Grilled Beef Burrito
(720 calories, 32g fat)

Gordita Steak Baja
(230 calories, 7g fat)

KFC

Crispy Twister
(670 calories, 38g fat)

Honey BBQ Sandwich
(300 calories, 6g fat)

Burger King

Tendercrisp Chicken Salad with Honey Mustard Dressing
(660 calories, 44g fat)

Tendergrill Chicken Salad with fat free Ranch Dressing
(360 calories, 11g fat)

Domino's Pizza

2 slices Pepperoni & Sausage Ultimate Deep Dish Pizza
(600 calories, 34g fat)

2 slices Ham Crunchy Thin Crust Pizza
(270 calories, 16g fat)
 Tips when eating at fast food restaurants:
Avoid the extra sauces. If you do decide to have them, get them on the side so you can add them yourself, and control the portion you eat.
Calories add up quickly in drinks. Try to avoid having them altogether to cut out some calories in your fast food meal. Drink water instead!
Consider looking up the nutrient information of the fast foods you most commonly eat. Most fast food restaurants have their nutrient information online now. This way, you can better plan what you will eat when you stop by the drive-through window.
Even salads can contribute a significant amount of calories and fat, especially if you use all of the salad dressing. Consider using only part of the salad dressing rather than the full packet. Ask if there is light dressings available.
Choose grilled options rather than fried whenever possible.

Beth Sumrell Ehrensberger is a Registered Dietitian and holds a Master Degree in Public Health. An experienced nutrition counselor, writer and public speaker, Beth specializes in translating complex nutrition information into practical concepts. Beth was awarded a Nutrition Communications Fellowship to the National Cancer Institute, and has worked on the internationally recognized Nutrition Action Healthletter of the Center for Science in the Public Interest.