Healthy Comfort Food Your Taste Buds Will Crave

Like an old college sweatshirt or worn-in pair of jeans, when you crave comfort, only the most familiar will do. And when it comes to comfort food, who really wants to eat a salad when the taste buds have been begging all day for a big, creamy bowl of mac and cheese like mama used to make? But too many encounters with comfort food faves can leave those old jeans a little too snug, since traditionally, comfort food is brimming with fat and plenty of empty calories. But here's a cozy thought: There's a way to merge the passions of comfort and smart choices, with healthy comfort food that pleases the palate.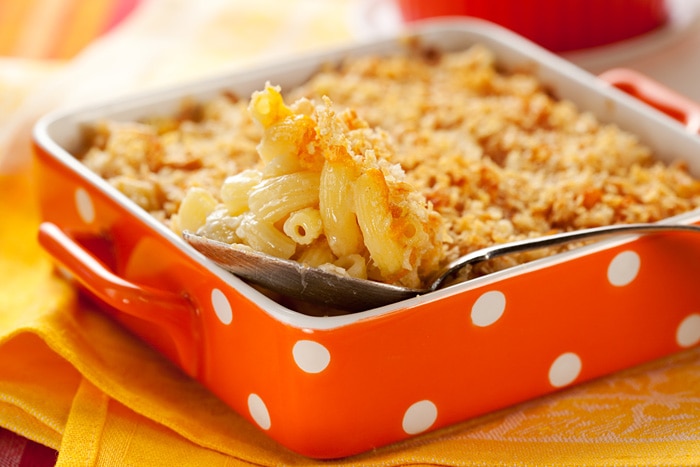 Y'all Dig in, Now! Healthy Comfort Food
Be the Cheesiest
Mac and cheese: What's not to love? Besides the nutrition profile, that is. For healthier comfort food, make a veggie-filled spin on this favorite that helps to add to your daily produce tally, and satisfies you with filling fiber. The best way to make a healthy mac and cheese (and an avenue to avoiding highly processed foods) is to start with whole wheat pasta, then make your own sauce using 1 percent milk, a tablespoon of flour, and a handful of cheese.  Then add in some leftover or frozen veggies.
You Say Potato
There's just something comforting about the old spud. Whether you crave them fried or mashed, there's a way to make them work in your healthy diet.  When making your own mashed potatoes, mix it up by going with half a portion of mashed potato, and half steamed, pureed cauliflower – the resulting combo provides more nutrition and fewer calories. To pump up the creamy texture, stir in plain Greek yogurt and finish with a teaspoon of trans-fat-free buttery spread. For fries, make your own by cutting a skin-on Russet or peeled sweet potato into strips, tossing in olive oil and salt and "frying" in a hot 425 degree oven until crispy and golden.
Soup It Up
Steaming bowls brimming with soup or chili are easy to convert to healthy comfort foods. If you're making chili, cut out half the meat, and instead add a can of rinsed and drained kidney beans along with a can of undrained, diced tomatoes. Also, diced, leftover sweet potatoes or butternut squash mix in perfectly, and make for a rich and thick chili. If creamy soups say comfort to you, use veggies to fake a sinful texture. Using your favorite vegetable soup recipe, add in two extra cups of steamed veggies (any mixture that compliments your recipe) that you've pureed. The result is a creamy broth – and extra vegetables.
Cozy Up with Italian
If a steaming plate of pasta makes you want to melt, read on. Just as with the mac and cheese, it's best to start with whole wheat pasta – the fiber-filled profile will help you take in less. Bypassing the cheese and Alfredo sauces, using hearty red sauce is your best bet to keep a lid on calories – and make it healthy comfort food. Instead of adding the traditional meats to the sauce, add goodies to the top – sautéed Italian-style veggies, that is. Mushrooms, asparagus, white beans, tomato chunks, and sweet onions quickly cooked in olive oil can help extend the satisfaction without budging on the calorie budget. But the best news is, you don't have to nix the cheese. To keep it healthy, use a microplane grater to shave a dusting of cheese like Parmigiano-Reggiano, which has strong flavor – meaning just a little is enough to tickle your tongue.
Bring on the Burgers
If the day's got you beat and all you can think of are burgers, go ahead and indulge – the healthy comfort food way. Choose extra-lean ground beef (at least 92% lean) and form it into quarter-pound patties using a little seasoning salt and Worcestershire sauce. Throw them on the grill at medium-high heat, using a meat thermometer to judge doneness instead of pressing and piercing – a great trick to keeping lean, healthy burgers juicy. If it's cheese you desire, melt on a slice of a 2% milk version in the flavor you crave. To finish, serve with mustard, ketchup, and plenty of lettuce, tomato, and onion on a whole wheat roll.
The Bottom Line
Making healthy comfort food at home with high-quality, healthy ingredients can make foods that you once swore off your healthy diet a true possibility again!

Alumni: University of Tennessee, Knoxville – Beth Sumrell Ehrensberger is a Registered Dietitian and holds a Master Degree in Public Health. An experienced nutrition counselor, writer and public speaker, Beth specializes in translating complex nutrition information into practical concepts. Beth was awarded a Nutrition Communications Fellowship to the National Cancer Institute, and has worked on the internationally recognized Nutrition Action Healthletter of the Center for Science in the Public Interest.