5 Easy Ways to Get Your Kids to Eat More Whole Grains
The benefits of whole-grain foods are becoming more and more well-known. From their role in general health and wellness to weight management to disease prevention, the power of whole grains cannot be ignored. As you aim to increase your intake of whole grains, make sure your child is consuming plenty of whole grains as well.
Children need at least 2 to 3 servings of whole grain foods per day (at least half of their grain servings should be whole grain), and it's even better if most of your child's grain servings come from whole grain sources. For school-aged children, one whole-grain serving equals a slice of whole-grain bread, 1 cup of ready-to-eat whole-grain cereal, or 1/2 cup of cooked cereal, whole-wheat pasta, or brown or wild rice.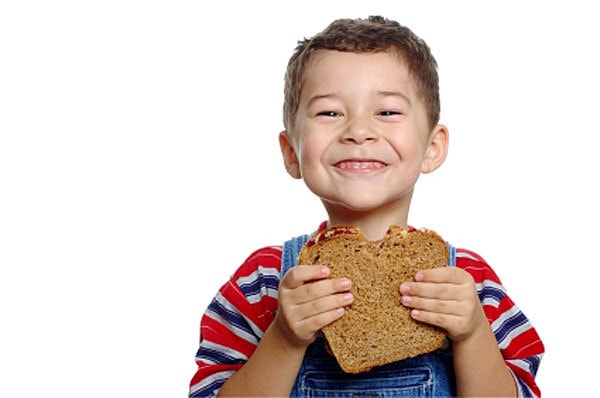 Ways to Boost Whole Grain Intake in Your Children
Breakfast: For a quick and easy breakfast, pour milk over a bowl of ready-to-eat whole-grain cereal- an unsweetened, low-fat variety. Try adding a sliced banana or raisins if your kids complain. The best cereal choices are those with at least 3 to 5 grams of fiber per serving.
Examples include: Cheerios, Wheat Chex, Quaker Essentials Crunchy Corn Bran, Shredded Wheat, and Original Total Whole Grain. If your child prefers hot cereal, serve a bowl of plain oatmeal topped with raisins, dried cranberries, sliced bananas, or a small amount of brown sugar and milk.
Lunch: It's time to throw out that loaf of white bread, along with your sandwich bread that looks brown, but doesn't say "100% whole wheat" or "whole grain" on the package. Bread is often brown because coloring has been added, not because it's made from whole grains, and "wheat bread" is not the same as "whole wheat bread," so read the package carefully.
Children get tired of the same old sandwich. Wraps are quick and easy to pack in a lunchbox: roll up mustard, lean deli-meat, cheese slices, lettuce, and tomato in a whole wheat or other whole grain tortilla. For variety, try a whole wheat pita pocket instead of a tortilla.
Snack: Whole rye crackers with plain or flavored cream cheese make a delicious and healthy after-school snack! Kids will probably prefer the light rye or seasoned/flavored varieties rather than plain dark rye crackers.
Dinner: If you're planning on preparing the old standby – spaghetti – for dinner tonight, replace your refined white noodles with those made from whole wheat. If you were planning on making lasagna, you can buy whole wheat lasagna noodles as well. In fact, you can find whole wheat varieties of practically any type of pasta noodle. If your kids frown upon whole wheat pasta, try mixing it half-and-half with your standard white noodles the first few times, until they develop a taste for it.
Snack: Did you know that popcorn is a whole grain? Try popping your own popcorn and sprinkling some parmesan cheese, garlic powder, or other spices on top. Low-fat microwave popcorn is a good option too.

Alumni: Seattle Pacific University – Keeley graduated Summa Cum Laude from Seattle Pacific University with a Bachelor of Science in Food and Nutrition and a Dietetics Specialization. She went on to complete her dietetic internship at Baylor University Medical Center in Dallas, where she received the Distinguished Dietetic Intern Award and Scholarship.