Parsnip: Nutritional Values and How-To
As the temperature starts to dip, give parsnips a try. In season during the winter, parsnip is related to the carrot family. In fact, parsnip looks like a very pale yellow carrot. Perhaps its color and look is not so outstanding, but parsnip's nutritional value deserves a second look.
Nutrition Facts for Parsnip
One cup of raw parsnips provides:

Calories: 100 kcal
Fat: 0.4 g
Carbohydrates: 23.9 g
Fiber: 6.5 g
Net Carb: 17.4 g
Protein: 1.6 g
Potassium: 499 mg
Vitamin C: 25% Daily Value (DV)
Vitamin K: 25% DV
Glycemic Index: 52 (Low)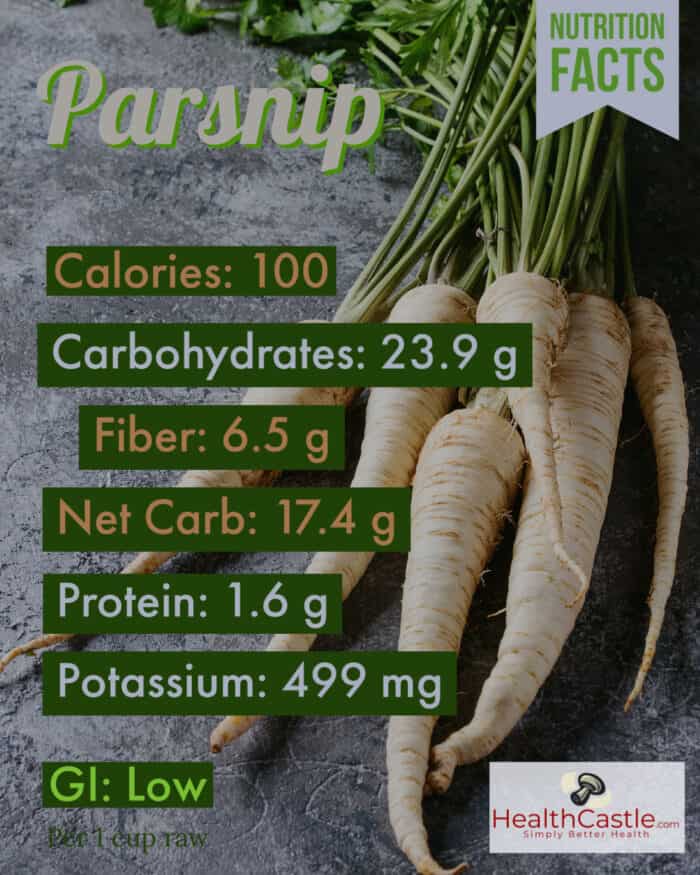 Parsnip is an excellent source of fiber, providing 6.5 grams per cup. Indeed, parsnip provides one of the highest fiber among all root vegetables. In addition, parsnip is high in potassium. That's great news in light of research suggesting that getting enough potassium is just as important as cutting down the sodium in your diet. Furthermore, parsnip also provides a good source of both Vitamin C and Vitamin K; each serving provides 25% what our daily requirements.
Compared to other root vegetables, parsnip is not the lowest in carbohydrate content. However, it is still relatively low in carb. One cup of parsnip provides 17.4 grams of net carb, making it ideal to replace other carb-heavy starch choices.
As for glycemic index values, there are conflicting results. In an early testing in 1981 conducted in Canada, the glycemic index value was determined at 97. However, a later test in 2008 conducted in Australia showed that the glycemic index for parsnip is 52 (low) from a portion providing 25 g of carbohydrate (that's about a cup of parsnips). Such variance may be due to the species, as well as the duration of cooking.
How to Choose and Prepare Parsnips
When buying parsnip, look for small to medium-sized ones, because the very large ones have a tough and bitter core. (You can still use large ones as long as you trim and discard the core before cooking.) The flesh should be firm and the color is even; avoid the ones with soft or dark spots. Unpeeled whole parsnips will keep in the fridge for a couple of weeks. Peel parsnips just before cooking, because their exposed flesh will darken when exposed to air. Or, keep the peeled and cut chunks in a bowl of water with lemon juice added.
Ways to Include More Parsnip in Your Diet
Steam and mash parsnips instead of potatoes, and serve as a side dish. They also work well in casseroles or for hash browns.
Add raw grated parsnips to salads to add crunch and nutrition. They taste sweet raw, just like carrots.
Use parsnips in place of carrots in your favorite stir-fries, soups, or stews.
Make parsnip chips: Slice them thinly, toss with a bit of oil, and bake in the oven.
Alumni: University of British Columbia – Gloria Tsang is the author of 6 books and the founder of HealthCastle.com, the largest online nutrition network run by registered dietitians. Her work has appeared in major national publications, and she is a regularly featured nutrition expert for media outlets across the country. The Huffington Post named her one of its Top 20 Nutrition Experts on Twitter. Gloria's articles have appeared on various media such as Reuters, NBC & ABC affiliates, The Chicago Sun-Times, Reader's Digest Canada, iVillage and USA Today.