Written By: Sofia Layarda, RD
Last Updated on:
For something a little different this month, try out parsnips in your kitchen! In season during the winter, parsnip is related to the carrot, another well-known and loved root vegetable. In fact, parsnip looks like a very pale yellow carrot.
Nutrition Tidbits for Parsnip
A 1/2-cup serving of cooked parsnip "coins" contains:

Calories: 55 kcal
Fat: 0.2 g
Carbohydrates: 13 g
Protein: 1 g
Fiber: 3 g
Glycemic Index (GI): High (above 70)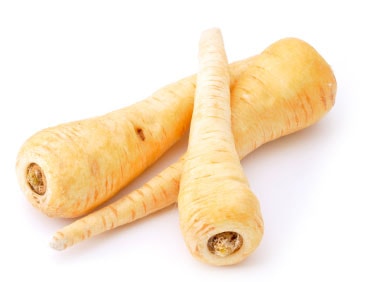 Parsnip is a great source of fiber, and is high in potassium. That's great news in light of research suggesting that getting enough potassium is just as important as cutting down the sodium in your diet.
When buying parsnip, look for small to medium-sized ones, because the very large ones have a tough and bitter core. (You can still use large ones as long as you trim and discard the core before cooking.) The flesh should be firm and the color even; avoid any that have soft or dark spots. Unpeeled whole parsnips will keep in the fridge for a couple of weeks. Peel parsnips just before cooking, because their exposed flesh will darken when exposed to air. Or, keep the peeled and cut chunks in a bowl of water with lemon juice added.
Ways to Include More Parsnip in Your Diet
Steam and mash parsnips instead of potatoes, and serve as a side dish. They also work well in casseroles or for hash browns.
Add raw grated parsnips to salads to add crunch and nutrition.
Use parsnips in place of carrots in your favorite stir-fries, soups, or stews.
Make parsnip chips: Slice them thinly, toss with a bit of oil, and bake in the oven.

Sofia believes in bringing back fun and pleasure into everyday eating. She loves cooking, and is constantly experimenting with ingredients, creating recipes and trying them out on family and friends. Her latest interest lies in finding realistic and practical ways of environmentally-friendly food/eating habits.