Cool Summer Drinks for People with Diabetes

Summer is finally here! Enjoy the return of the warmer months by trying these summer drinks that can fit right in with your diabetes meal plan and keep your taste buds happy. Whether you have a sweet tooth or crave something light and refreshing, you are sure to find a good fit.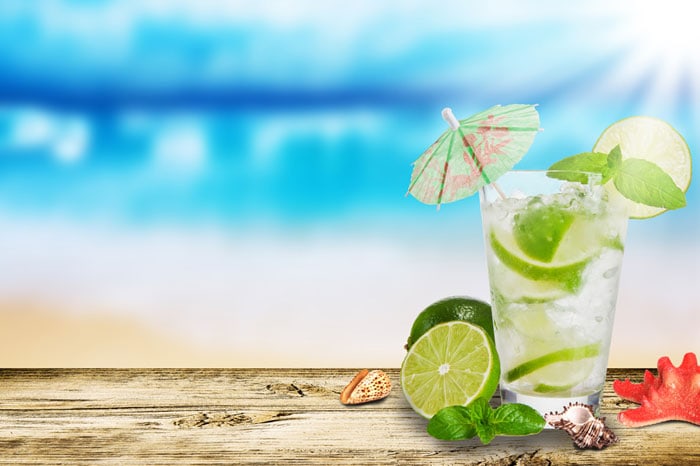 Water, Water, Everywhere!
There are no calories or carbohydrates in water. So drink as much water as you like. You get tired of drinking plain water? Try flavored or sparkling waters that are far from plain; check the labels to find one that is diabetes friendly (low-calorie or calorie-free is best).
Our top picks for some flavorful drinks without artificial sweeteners:
Dasani: 4 flavor choices with a hint of fruitiness, 0 calories, no artificial sweeteners
SoBe LifeWater 0 Calories: 6 flavors, 0 calories, made with natural sweetener from Stevia
Or, get creative and make your own:
Add lemon or lime along with your favorite sweetener to an ice-cold glass of water. Or, for "greener" taste buds, add lavender or mint with ginger to crushed ice and water.
Sweeter than Pie
If you crave something sweet but don't want to add extra sugar or calories to your diabetes meal plan, try the following chilled or "on the rocks" while soaking up summer rays:
Snapple Tea Drinks: Snapple has a "Lightly Sweetened" line that has lower sugar and made without artificial sweeteners.
True Citrus Mix: True Citrus is the only water mix we reviewed that contains no artificial sweeteners. Check out my post on other flavored water mixes.
The Classics
These old-school favorites may have new labels, but they still make the grade:
Gatorade Natural: light refreshing taste that's perfect after a long summer run or hike. G-Natural provides 50 calories per 8 ounces, about one carb/serving. G2-Natural provides 20 calories per 8 oz.
Tropicana 50: now available in a "light 'n' healthy" version with only 50 calories per 8 ounces, you can pick your desired level of "pulp".
Cocktails By The Pool
Alcohol can be part of a diabetes meal plan in moderation. In general, people with diabetes should have only 1-2 alcoholic drinks per day. Check with your health-care provider about your own specific health needs, because too much alcohol can lead to dehydration. If you decide to drink alcohol, choose low-calorie options and make sure you count them in your diabetes meal plan. A few examples:
Wine spritzers: 4 ounces of wine with sparkling water or diet soda, 100 calories
Light Beers: Michelob ULTRA Light has lime, pomegranate-raspberry, and tuscan orange flavors; 12 ounces has 107 calories and 6 grams of carbs
Low-cal margaritas: mix lemon Crystal Light (instead of "drink mixers" that contain sugar) with 1 ounce tequila and fresh lime juice, and use artificial sweetener on the rim of your glass (about 100 calories)
The Bottom Line
Whether you are relaxing by the pool or running on the beach, staying hydrated in the summer is essential for people with diabetes. Pick summer drinks that suit your taste buds as well as your health goals. Our top picks are always water, or water or tea flavored with natural fruit juice! A quick look at the nutrition label is always a good way to know if your bottled water or juice fits into your diabetes meal plan.

Alumni: University of Florida – Sejal is a registered dietitian, a certified diabetes educator and she holds a masters degree in nutrition and health. Sejal was the project coordinator for the Veteran's Administrations (VA) national weight loss program and previously worked for the VA hospital in Tampa, FL as a Spinal Cord Injury dietitian.
Sejal has had numerous clinical and community education experiences, including pediatric and intensive care nutrition support. She has also had the opportunity to teach nutrition courses at the community college level to students interested in pursuing health professions. One of her favorite areas of education is diabetes management.