Written By: Gloria Tsang, RD
Last Updated on:
Last year I wrote about the danger of brominated vegetable oils (BVO) and reported that Gatorade (a division of Pepsi) announced it would remove BVO from its line. After a year and a half of public pressure, both Coke and Pepsi finally agreed last week to remove BVO from all of their drinks. Products affected in this announcement include Mountain Dew, Powerade, Amp, Fresca, and Fanta. Coke announced that BVO removal will be completed by the end of the year; Pepsi didn't specify a timeline.
It's late, but still better than never.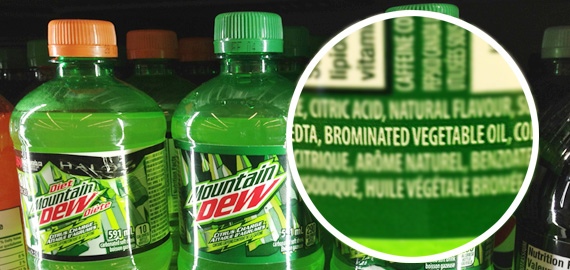 The Danger of BVO
I don't want to repeat myself from my previous BVO post, but briefly, BVO is known as a "flame retardant." Animal studies done as early as the '70s and '80s showed adverse health effects.
Sometimes I wonder why health authorities don't learn from each other. The UK has banned BVO since 1970, so why is it taking so long for North American authorities to reach the same conclusion? I just don't get it!
BVO is still deemed safe in North America; it is just being voluntarily removed by the two companies.
What Drinks Still Contain BVO?
Some flavors of the following brands still contain BVO:
Sun Drop
Sunkist
Squirt
Crush
Stewarts
Generic store brands
With or without BVO, soda and sports drinks are simply empty-calorie drinks. Stick to water, tea, or coffee instead.
Gloria Tsang is the author of 6 books and the founder of HealthCastle.com, the largest online nutrition network run by registered dietitians. Her work has appeared in major national publications, and she is a regularly featured nutrition expert for media outlets across the country. The Huffington Post named her one of its Top 20 Nutrition Experts on Twitter. Gloria's articles have appeared on various media such as Reuters, NBC & ABC affiliates, The Chicago Sun-Times, Reader's Digest Canada, iVillage and USA Today.