Written By: Sofia Layarda, RD
Last Updated on: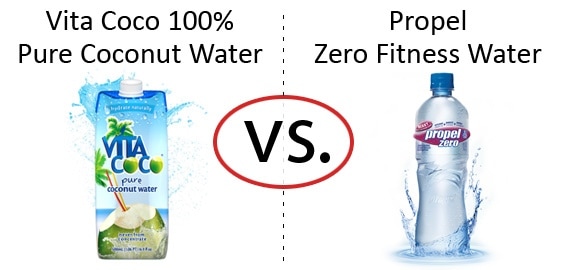 You couldn't tell from the recent stretch of warm, gorgeous weather we've been having, but it is in fact October. Many are enjoying the chance to get a workout outdoors before the weather turns extreme. Should we be drinking something other than water during or after a workout? We took a closer look at a couple of options for workout drinks.
Nutrition Faceoff: Vita Coco 100% Pure Coconut Water vs. Propel Zero Fitness Water
| | | |
| --- | --- | --- |
| | Vita Coco 100% Pure Coconut Water | Propel Zero Fitness Water |
| Serving Size: | 8 fl oz (1 cup) | 8 fl oz (1 cup) |
| Calories:  | 45 kcal | 0 kcal |
| Fat: | 0 g | 0 g |
| Protein: | 0 g | 0 g |
| Total Carbs: | 11 g | 0 g |
| Sugar: | 11 g | 0 g |
| Sodium: | 30 mg | 80 mg |
| Potassium: | 470 mg | 20 mg |
| Ingredients: | Coconut water, less than 1% natural fruit sugar, vitamin C | water, citric acid, sodium hexametaphosphate (to protect flavor), natural flavor, potassium sorbate (preserves freshness), ascorbic acid (vitamin C), sucralose, sodium citrate, potassium citrate, acesulfame potassium, niacinamide, calcium disodium EDTA (to protect flavor), vitamin A acetate, calcium pantothenate (vitamin B5), pyridoxine (vitamin B6) |
Dietitian's Take
A few highlights:
These two products have much less sugar than the typical sports drink, like Gatorade. In the case of Propel Zero, there is no sugar at all – but that is because it uses two artificial sweeteners: acesulfame potassium and sucralose.
Vita Coco Coconut water contains more carbohydrates and potassium and less sodium than Propel Zero fitness water. Sodium and potassium are the main minerals (aka electrolytes) lost during intense exercise.
Both beverages have added Vitamin C as a preservative, but Propel Zero contains additional preservatives and flavorings, as well as vitamins.
Our Pick: Vita Coco 100% Pure Coconut Water
It comes down to keeping it simple. The coconut water product we looked at contains coconut water and Vitamin C. (Some coconut water products on the market have extra juice or sugar added, so be label-smart and get the type with only coconut water.) Propel Zero, on the other hand, has more added vitamins, but also more preservatives. In general, skip the flavored water with many preservatives and artificial sweeteners, and don't look to bottled water to get your vitamins.
We should also add that plain water on its own does a fine job of keeping you hydrated when you are a typical exerciser who spends up to an hour per session several times a week. While some of us do participate in intense activities such as running marathons or triathlons, the majority don't train at such an intense level that we need special drinks. Do you need to replace the electrolytes (sodium, potassium) you lose? Yes, but that can be done by including high-potassium foods in your diet, and most of us eat enough sodium daily without requiring extra in what we drink.

Sofia believes in bringing back fun and pleasure into everyday eating. She loves cooking, and is constantly experimenting with ingredients, creating recipes and trying them out on family and friends. Her latest interest lies in finding realistic and practical ways of environmentally-friendly food/eating habits.