Written By: Sofia Layarda, RD
Last Updated on: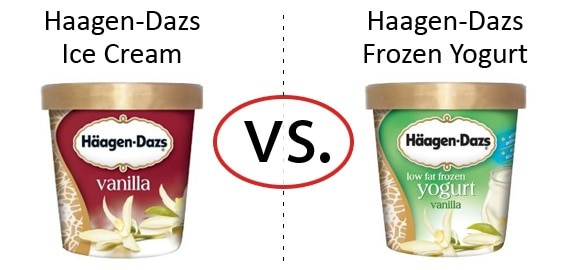 There's a good chance most of us will treat ourselves to an ice cream cone or two this summer. Some folks may stick to frozen yogurt because of the perception that it is "healthier" than a regular ice cream cone, but is this really the case? We took a closer look at two products from Haagen-Dazs for comparison.
Nutrition Faceoff: Haagen-Dazs Vanilla Ice Cream vs. Frozen Yogurt
| | | |
| --- | --- | --- |
| | Haagen-Dazs Ice Cream | Haagen-Dazs Frozen Yogurt |
| Serving Size: | 1/2 cup | 1/2 cup |
| Calories: | 270 kcal | 170 kcal |
| Fat: | 18 g | 2.5 g |
| Saturated Fat: | 11 g | 1 g |
| Protein: | 5 g | 9 g |
| Total Carbs: | 21 g | 29 g |
| Sugar: | 21 g | 21 g |
| Vitamin A: | 15% DV | 2% DV |
| Calcium: | 15% DV | 20% DV |
| Ingredients: | Cream, Skim Milk, Sugar, Egg Yolks, Natural Vanilla. | Skim Milk (Lactose Reduced), Corn Syrup, Sugar, Egg Yolks, Cream, Vanilla Extract, Active Yogurt Cultures. |
Dietitian's Take: Haagen-Dazs Vanilla Ice Cream vs. Frozen Yogurt
With cream as the first ingredient, the ice cream version has a much higher fat content. The higher fat content of the ice cream makes its calorie hit about 60% higher than the frozen yogurt.
There is also more Vitamin A in the ice cream than the frozen yogurt. Since Vitamin A is a fat-soluble vitamin, it can be lost when the fat is removed from the milk.
There is more protein in the frozen yogurt than the ice cream.
The total sugar amount is the same in the ice cream and frozen yogurt. A glance at the label shows that the frozen yogurt has two sweeteners: sugar and corn syrup (different from high fructose corn syrup), while the ice cream uses only sugar as a sweetener. Corn syrup can also act as a thickener, which improves the texture of the product.
Our Pick: Haagen-Dazs Vanilla Frozen Yogurt
Compared to other frozen yogurts on the market, the Haagen-Dazs vanilla frozen yogurt has one of the simpler ingredient lists we have seen. It stays true to what you would expect of a yogurt: made mostly with skim milk, with some sweetening and active cultures added. While it is not as low in fat as some of the fat-free/non-fat frozen yogurt products, it is also free of the artificial sweeteners, emulsifiers, and thickeners that some other brands use. The lactose-reduced skim milk as the main ingredient is also helpful to those with lactose intolerance.
Having said all of the above, we know some of you subscribe to the "nothing but the real thing" philosophy of ice cream enjoyment. If that is the case, go ahead and enjoy a small portion ​of the indulgent, higher-fat ice cream and save the rest for another occasion. Don't forget, all the nutritional numbers quoted here are for a 1/2 cup serving of ice-cream – that's the size of a tennis ball.
Also, check out the ice-cream database in our GoUnDiet Packaged Food review. With this interactive tool, you can choose an ice cream that fits your nutritional needs.

Sofia believes in bringing back fun and pleasure into everyday eating. She loves cooking, and is constantly experimenting with ingredients, creating recipes and trying them out on family and friends. Her latest interest lies in finding realistic and practical ways of environmentally-friendly food/eating habits.