Written By: Beth Ehrensberger, RD
Last Updated on:
If you're like most health-conscious women, you invest a considerable amount of time and energy into planning a healthy diet and avoiding extra calories. So, during pregnancy it's no surprise that adding extra calories to your diet can feel a bit contrary. No doubt you've heard the expression "eating for two" – but pregnancy is not a free pass to unlimited snacks of cookies and chips.
Since your body is hard at work, healthy snacks can give you the extra calories you need and curb your cravings while still honoring the important responsibility you now have for the health of yourself and your baby – without doubling the amount you eat!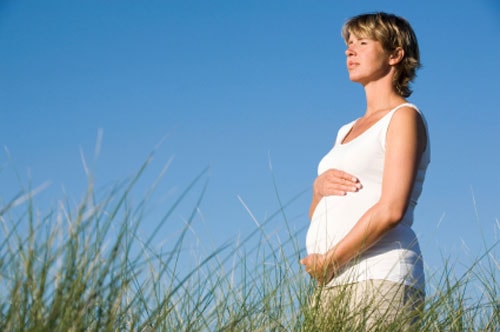 How Much More Should You Eat?
Pregnant women need only add about 100 calories in the first trimester, and 300 calories in the second and third trimesters. The extra calories you add to your diet during pregnancy should be strategically chosen with high-fiber, nutrient-dense foods dominating your daily diet. Pregnancy is a time to be especially mindful of your portion size, sodium, fat, and discretionary calorie intake. Excess weight gain from too many calories can increase your risk for gestational diabetes and high blood pressure, putting both you and your baby's health at risk.
In the second and third trimesters, it doesn't take much food to quickly add the 300 daily calories to your diet – a simple snack in the afternoon or evening can add just the right amount of extra nutrition. For an easy grab-and-go guide, we've created a list of snack options rich in calcium, protein, whole grains, fiber and phytonutrients from fruits and vegetables. Plus, we've added a few healthy indulgences to satisfy your cravings without adding extra fat or calories. Start practicing now to be a great role model to your child as you snack your way to a healthy pregnancy!
Pregnancy Snack Guide for Your Second and Third Trimester
Craving Sweet?
1 cup low-fat chocolate milk with a large banana
1 cup vanilla low-fat vanilla yogurt with 1 cup fresh cantaloupe chunks sprinkled with 2 tablespoons granola cereal
1 cup fat-free skim milk blended with 1 cup fresh strawberries and 3/4 cup low-fat vanilla yogurt
1 cup 2% cottage cheese and 1 cup fresh pineapple chunks
Craving Crunchy?
1 cup carrot strips with 4 tablespoons hummus and 8 whole grain crackers (such as Triscuit)
4 graham cracker squares spread with 2 tablespoons peanut butter (Some research suggests that if your family, or your partner's, has a history of peanut allergies, you may want to avoid peanut products while pregnant. Check with your doctor.)
8 whole grain crackers with 2 oz low-fat cheddar cheese and one cup red pepper strips
Trail mix combining 23 almonds, 1 mini box of raisins, and 3/4 cup whole grain cereal
The Bottom Line
Adding about 300 extra calories to your daily diet during the second and third trimesters is important to ensure the health of you and your baby. But use those extra calories to add solid nutrition, instead of fat-filled empty calories.

Beth Sumrell Ehrensberger is a Registered Dietitian and holds a Master Degree in Public Health. An experienced nutrition counselor, writer and public speaker, Beth specializes in translating complex nutrition information into practical concepts. Beth was awarded a Nutrition Communications Fellowship to the National Cancer Institute, and has worked on the internationally recognized Nutrition Action Healthletter of the Center for Science in the Public Interest.