No More Frozen Bagel Bites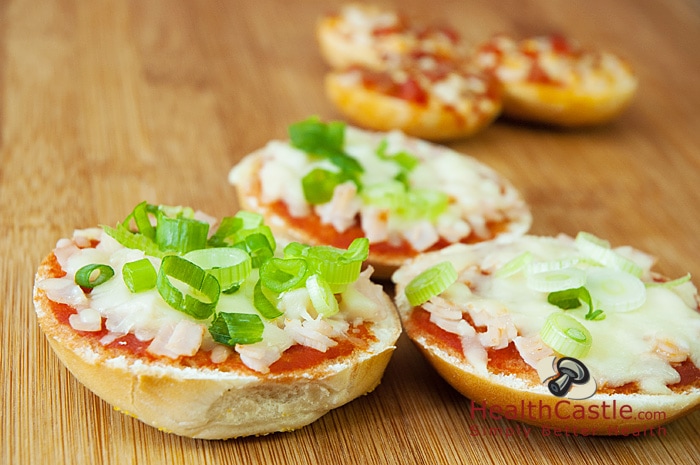 One of the most popular pre-made snack items targeted to kids is frozen, pre-made bagel bites, which you'll find in your supermarket freezer. These are essentially little mini bagels with a cheese topping and a sprinkle of pepperoni bits.
Heinz Bagel Bites (Cheese and Pepperoni)
Homemade Mini Bagels (Cheese and Turkey)
Here is a video of the entire process.
We created our own version of a bagel bite using mini bagels and a few no-fuss toppings. (Think of it as a mini pizza with a bagel half acting as the base). Here is how we did:
Heinz Bagel Bites
(Cheese and Pepperoni)
Homemade Mini Bagels
(Cheese and Turkey)
Serving Size:
4 pieces (74 g)
2 bagel halves (76 g)
Calories:
190 kcal
134 kcal
Protein:
8 g
8.8 g
Fat:
6 g
3.3 g
Trans Fat:
0.1 g
0 g
Carbohydrate:
25 g
18.4 g
Fiber:
2 g
1 g
Sodium:
380 mg
455 mg
Calcium:
6% DV
14% DV
Preparation time:
Preheat oven: 10 mins Cooking:10 mins Total time: 20 mins
Preheat oven & prep ingredients: 10 mins Cooking: 10 mins Total time: 20 mins
Price per serving:
$1.78
$1.27
Ingredients:
Ingredients Bagel:unbleached enriched flour, water, whole wheat flour, glucose-fructose, salt, soybean oil, yeast, distilled monoglycerides, tocopherols, ascorbic acid, citric acid. Topping: mozzarella cheese, pepperoni (pork, salt, spices, water, dextrose, oleoresin of paprika, flavours, sodium nitrite, lactic acid starter culture), modified cornstarch, skim milk powder, sodium phosphate, whey protein concentrate. Sauce: water, tomato paste, glucose-fructose, modified cornstarch, methyl cellulose, flavour (potassium chloride, ammonium chloride, yeast extract, maltodextrin, lactic acid, citric acid, calcium lactate), citric acid, salt, spices.
Mini bagel (enriched wheat flour, water, sugar, canola oil, salt, cornmeal, yeast, calcium propionate, fumaric acid), mozzarella cheese, tomato sauce (tomatoes, salt, spices, natural flavors), turkey breast cold cuts (turkey breast, water, salt, corn syrup solids, sodium phosphate, dextrose, carrageenan, sodium erythorbate, sodium nitrite), scallion
How Did the Two Versions Compare?
The photo of the finished products speaks volumes about the dramatic size difference! Our homemade bagel bites were basically double the size of the tiny pre-made ones, yet cost 51 cents less per serving. The made-from-scratch version also tasted great: flavorful with plenty of cheesy topping, as well as contrasting bits of chewy turkey and crunchy scallion slices. The frozen ones were mostly salty with no other real flavor, and the topping was wet and disappointingly bland.
Nutritionally, our bagel bites had fewer calories (mostly due to lower fat and carbohydrates). Our homemade version was also free of trans fat, and had a much shorter list of ingredients despite using store-bought tomato sauce and bagels. Notice that our version did have more sodium, because we used more generous amounts of toppings (cheese and turkey cold cuts). You can use leftovers such as roasted chicken meat in place of the turkey cold cuts to cut down on the sodium further.
The Bottom Line
Not only was it cheaper to make the bagel bites from scratch, we were also able to enjoy more generous portions and very tasty toppings at a lower calorie count. When at the supermarket, skip past the frozen mini bagels and gather up the ingredients to make your own from scratch. You can even get the kids to choose their own toppings and vary the choices from time to time so that you get different flavors and textures each time you make them.
Easy Baked Mini Bagels
Recipe by Sofia Layarda, MPH, RD
Yield: 4 servings (8 bagel halves)
Ingredients:
4 mini bagels, cut into halves
2 oz mozzarella cheese, grated
1/3 cup tomato sauce
1.5 oz turkey deli slices, diced (about 3 slices)
1 scallion, sliced thinly
Directions:
Preheat oven to 350F.
Top each bagel half with tomato sauce, diced turkey, and cheese.
Bake for 10 minutes, then garnish with scallion slices just before serving.

Alumni: University of California, Berkeley – Sofia believes in bringing back fun and pleasure into everyday eating. She loves cooking, and is constantly experimenting with ingredients, creating recipes and trying them out on family and friends. Her latest interest lies in finding realistic and practical ways of environmentally-friendly food/eating habits.