Vegan Turkey Alternatives for Thanksgiving
Are you expecting vegans at your Thanksgiving table this holiday season? Last year we discussed vegan thanksgiving options; this year we want to focus on imitation turkey, as there are an increasing number of vegetarian turkey alternatives on the market. Here are some of the more widely available ones, listed alphabetically: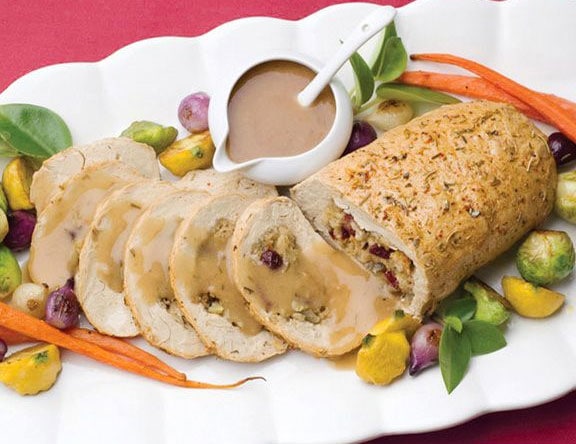 Vegetarian Turkey Alternatives
Field Roast Celebration Roast
The maker of this product refers to it as "grain meat." Field Roast is a product made with vital wheat gluten, the protein that exists naturally in wheat. You may have encountered a version of this referred to as seitan or "mock meat" in Buddhist or vegan restaurants. This means the product is not gluten free and therefore not appropriate for someone with celiac disease. A 4-oz serving of this product has 280 calories, 10 g fat, 710 mg sodium, 16 g carbohydrates, 6 g fiber, and 31 g protein. Other ingredients include yeast extract, safflower oil, barley malt, butternut squash, organic wheat flour, granulated garlic, apples, onion powder, tomato paste, lentils, Irish moss (a sea vegetable), spices, and liquid smoke. Despite the fairly high sodium content, we did not find salt listed in the ingredients.
Field Roast Hazelnut Cranberry Roast En Croute
This product is marketed as a "hazelnut-infused vegetarian grain meat" and is stuffed with mock sausages, cranberries, apples, and spices, and wrapped in a savory puff pastry. A 4-oz serving of this product has 350 calories, 19 g fat, 620 mg sodium, 23 g carbohydrates, 8 g fiber, and 22 g protein.
Gardein Holiday Roast
This product contains both vital wheat gluten and soy protein isolate. Its ingredients include canola oil, yeast extract, modified vegetable gum, a variety of grains, potato starch, natural flavors, sea salt, garlic powder, sugar, onion powder, pea protein, carrageenan, carrot fiber, beetroot fiber and spices. A 3-oz serving of this roast has 140 calories, 3 g fat, 360 mg sodium, 13 g carbohydrates, 2 g fiber, and 15 g protein.
Gardein Savory Stuffed Turk'y
The 5-oz serving of this product contains 280 calories, 12 g fat, 590 sodium, 21 g carbohydrates, 3 g fiber, and 23 g protein.
Tofurky Vegetarian Feast
This product contains both vital wheat gluten and tofu (rather than just the soy protein isolate). Its ingredients include shoyu soy sauce, canola oil, natural vegetarian flavor, corn starch, bean flours, lemon juice from concentrate, vegetables, calcium lactate from beets, and sea salt. A 5-oz serving of this product has 300 calories, 7 g fat, 620 mg sodium, 16 g carbohydrates, 3 g fiber, and 42 g protein.
The Bottom Line
Vegetarian turkey alternatives tend to be made from gluten and/or soy protein isolate. It is worth noting, though, that a product made with whole soybeans (like tofu) is different from a product made with soy protein isolate (like some granola bars). Most of these products tend to have fairly long ingredient lists, so read them to make sure you are picking a product that has recognizable ingredients.
Photo Credit: Gardein

Alumni: University of California, Berkeley – Sofia believes in bringing back fun and pleasure into everyday eating. She loves cooking, and is constantly experimenting with ingredients, creating recipes and trying them out on family and friends. Her latest interest lies in finding realistic and practical ways of environmentally-friendly food/eating habits.