Written By: Sofia Layarda, RD
Last Updated on:
As the end of the school year nears, many families focus on summer activities to keep the kids occupied. If you're still looking for ideas, how about getting them into the kitchen to cook? Getting kids involved in food preparation is an activity that can pay off by becoming a family routine that gives you a great opportunity to do some hands-on teaching. (Adjusting recipe yields, converting measuring units – kitchen math, anyone?)
There are more and more cookbooks available that focus on cooking with children. With so many choices, one wonders what works. While every book tries to distinguish itself from the competition, we would say that most of these cookbooks take one of two different approaches: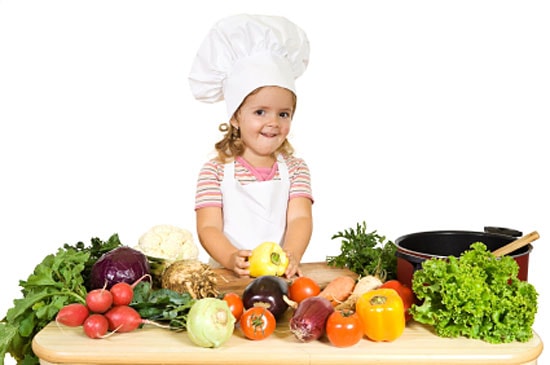 1. The "Kiddie Food" Approach
Some cookbooks entice kids (and their parents) with eye-popping color photos of the foods and recipes. The recipes tend to be simple, and allow some level of play with the food. The book may have a theme that appeals to a specific subset of kids – a princess baking theme, for example. This approach is more likely to attract younger children or toddlers, who would view using the book as another chance to play.
2. The "Kids Can If You Let Them" Approach
Books of this type offer regular "adult" foods with some modifications to make the preparation steps child-friendly or safer. In this school of thought, the children are basically helping prepare meals that the entire family can eat. Some of the more elaborate preparation steps are assigned to the supervising adult.
What is The Best Approach to Teaching Kids to Cook?
While children are naturally curious and readily receptive to learning something new, we think the right approach differs for every child.
Rob Seideman chef and founder of Cooking School of Aspen, has the following tips for cooking with kids:
In order to foster a positive experience, only invite your children into the kitchen with you when you have ample time and little expectation. Cooking for company, for example, when presentation and timeliness are factors, is probably not a great idea.
Avoid forms of baking that require exactness. It's one thing to bake cookies, where slight mismeasurements don't usually result in disaster, and quite another to make croissants from scratch.
Children won't like cooking if they associate it with having lots of rules. Good habits are easier to instill than attention to rules, and they ensure the same results.
Before you invite children into the kitchen, have all the required chopping and/or slicing done. This way, they will feel an integral part of the cooking process.
The Bottom Line
With our over-scheduled lives, many of us have let slip the opportunity to share food preparation chores with our family – and we are missing out on the opportunity to teach kids some valuable skills while having fun in the process. With your kids, pick a recipe from your favorite cookbook to try this summer when you have some down time (think of a mellow weekend brunch, for example). Or, use a theme such as "rainbow picnic" (packing fruits and vegetables of different colors for a picnic). You, and they, will be very pleasantly surprised at what you can create together.

Sofia believes in bringing back fun and pleasure into everyday eating. She loves cooking, and is constantly experimenting with ingredients, creating recipes and trying them out on family and friends. Her latest interest lies in finding realistic and practical ways of environmentally-friendly food/eating habits.