Which Yogurt to Choose? Yogurt Comparison
One of the most popular online tools on HealthCastle.com is our online packaged foods database. We recently updated the Yogurt portion of the database; it now contains over 85 products from some of the most well-known yogurt brands. You can now filter specific products, like Greek yogurt or organic yogurt. You can also filter products to show yogurt without gelatin. And of course you can sort products based on nutritional data. For instance, you can sort yogurts from the lowest sugar to the highest. So, how are yogurt products different from others? Are some yogurt brands better?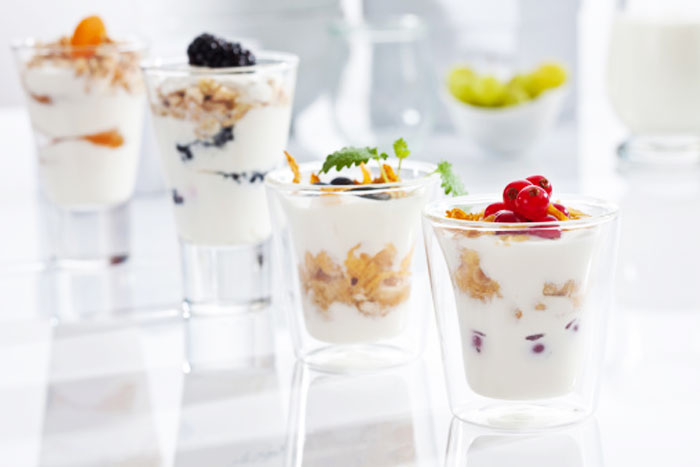 Yogurt Comparison
The Magically Shrinking Portion Size
For a yogurt to be a good source of calcium, it needs to contain at least 20% DV for calcium: the amount you typically get from a 6-oz serving. In this round of updates, we noticed a large number of products with small portions. For example, Dannon Activia has several products with 4-oz servings, while Dannon/Danone, iogo, and Astro have several products with 3.5-oz serving sizes. Some kids' and baby yogurt products even come in 2- or 3-oz servings! We see a place for small portions when it comes to portioning for babies or very young children, but older children or adults can typically eat more. If you are eating yogurt as a milk alternative, very small portions of yogurt may not supply a sufficient amount of calcium to the diet. Using our filtering function on the interactive review tool, you can see only about half of the yogurt products we reviewed provide at least 20% DV of calcium.
Everyone is Going Greek
There has been an explosion of Greek yogurts on the market. However, they are not all created equal.
The simpler Greek products have nothing added beyond milk, cream, and bacterial cultures. Greek yogurt by nature should be higher in protein and fat because of how it's made.
The simplest Greek yogurts in our database come from Wallaby Organic and Fage – their Greek yogurt consists of milk and/or cream and bacterial cultures.
Brown Cow Farm and Stonyfield use pectin in their Greek products. Pectin is typically found in jams and jellies as a gelling agent, and occurs naturally in citrus fruits and fruits such as apples.
Stonyfield Farm products use fruit or vegetable juice for coloring, which we think makes a great alternative to artificial food dyes.
Some products, such as Danone Oikos Greek – both regular and fat free, have fairly long ingredient lists with added items such as carrageenan, potassium sorbate (preservative), and malic acid.
Greek Gods yogurt gave us an impression that it is a Greek yogurt, but we're surprised to find out that it's only a "Greek-style" yogurt. An easy way to confirm is to look at the protein content. Most Greek yogurts we reviewed have at least 10 to 12 grams of protein per serving; the Greek Gods product we reviewed merely has 6 grams of protein.
However, don't rely heavily on using the protein content as a checker either. Some Greek products, such as YoCrunch Raspberry & Acai Greek and the Liberte products, add milk protein concentrate and/or whey protein concentrate. These additives increase the protein content of the yogurt, which we find to be a little misleading, because Greek yogurts by definition should already have a higher protein content than regular unstrained yogurt.
Sugar by Any Other Name is Still Sugar
We sometimes see "sugar" appearing side by side with items such as "fructose" or "evaporated cane juice" as well as honey and maple syrup. Whatever you call them, these are all sweeteners and do ramp up the grams of sugar you will find on the Nutrition Facts panel. The amount of added sugar does not necessarily equal the grams of sugar you see on the panel because of lactose – the naturally occurring sugar in dairy products.
Pay attention to high sugar content in some yogurt. Use the "Sort By" function on the tool to sort yogurt from highest to lowest. The yogurt with the highest sugar content is Tillamook's Oregon Strawberry Lowfat with 30 grams of sugar. But another nonfat yogurt – Stonyfield Oikos Nonfat – managed to have only 16 grams of sugar without using artificial sweeteners. The bottom line is, there are yogurt products with lower sugar content, so be sugar-smart!
U.S./Canadian Products not Created Equal
For a given brand and manufacturer, the U.S. and Canadian products may be different. Take the example of Danone Oikos Strawberry (Canadian product) and Dannon Oikos Strawberry (U.S. product). The Canadian product has sugar as its sweetener, while the American product has fructose in addition to sugar; the American product also specifies the coloring added (black carrot juice and carmine), while the Canadian product simply says "natural color" – there is no way to tell what this actually means.
Most companies have different websites for their American and Canadian products, so when you are checking for nutrition information, be sure you are looking at the right website.
Fat-Free or Light Products Tend to Use Artificial Sweeteners
We find that the labels "fat-free," low-fat", or "low-carb" tend to signal the presence of artificial sweeteners. Most artificially sweetened yogurt products are sweetened with sucralose, but some are sweetened with two or more artificial sweeteners. Yoplait's Greek 100 Calories Strawberry, for instance, contains two artificial sweeteners – sucralose and acesulfame potassium. One of the most outrageous examples is Dannon's Activia Light Strawberry, which has three artificial sweeteners: aspartame, acesulfame potassium, and sucralose. We found one brand sweetened with stevia: Stonyfield Farm's Organic Fat Free Fruit on the Bottom Strawberry.
Use our "Filter By" function to find yogurt without artificial sweeteners.
Yogurt for Babies – Should You?
If you choose to feed your baby yogurt, choose plain unflavored yogurt. We've looked at 2 baby yogurt products in our tool: Stonyfield Farm and Wallaby Organic. Both of these brands offer plain unflavored whole milk yogurt for babies, but they also comes in flavored (i.e. sweetened) versions. Typically, a flavored version add about 2 tsp of sugar in a 4-oz serving of baby yogurt.
Indeed, you really don't need to buy baby yogurt to feed your babies. Any plain yogurt with a short ingredient list is appropriate. If you try a plain-flavored yogurt and your baby does not like it, try a different brand. Plain yogurts from different companies have different textures and tastes, so don't give up. If you choose to sweeten the yogurt, use fruit purees or cut-up fruit with no added sugar.
Be Wary of Cartoon Characters on Yogurt for Kids
The products targeted to kids – such as Yoplait Kids Dora the Explorer Strawberry – have no actual fruit in them, despite the strawberry flavor. We suggest skipping them!
The Bottom Line
Do your research before visiting the yogurt section at the supermarket; the market has really exploded and weeding through the selection can be quite mind-boggling!
Here are a few quick things to look for when choosing a yogurt:
Keep it simple. Look for fewer ingredients on the list with no mysterious-sounding additives.
No artificial coloring or artificial sweeteners. Flavoring is a tricky one, because we find most yogurts list "natural flavor" on the ingredient list, which doesn't say much.
Watch sugar content.
Be sure you are getting active/live bacterial cultures.

Alumni: University of California, Berkeley – Sofia believes in bringing back fun and pleasure into everyday eating. She loves cooking, and is constantly experimenting with ingredients, creating recipes and trying them out on family and friends. Her latest interest lies in finding realistic and practical ways of environmentally-friendly food/eating habits.