Last Updated on:
It's barbecue season! Grilling is a fun and easy way of getting meals done, and skewers are popular with kids and adults. Skewers are also a great way of serving smaller meat portions while adding more fruits and vegetables. Here are some fun ways to shake up your grilling routine with skewers.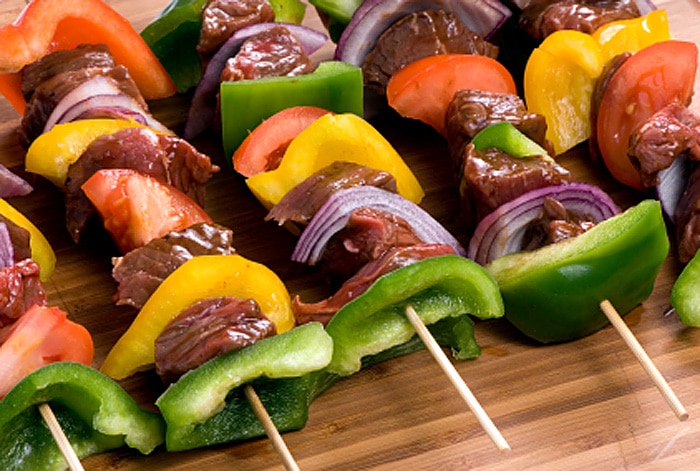 Eat Less Meat and Stay Satisfied: Fun Ideas for BBQ Skewers
Rustic Bistro SkewerInstead of a big slab of steak, put bite-size beef chunks on skewers, alternating them with beets, mushrooms, and asparagus. Brush with a mixture of olive oil, minced garlic, and rosemary, season with salt and pepper, and throw the whole thing on the grill.
Souvlaki with Grilled EggplantTo make souvlaki, marinate your meat of choice (cut into 1″ cubes) in a mixture of olive oil, red wine, freshly squeezed lemon juice, garlic, oregano, and salt and pepper. Make ahead and let this marinate overnight, or at least a few hours, before it's time to grill. To prepare the eggplant, cut into 1/2-inch thick slices, brush with olive oil, rosemary, and salt and pepper, and put these on the skewers, alternating with the marinated meat. Grill for 15 to 20 minutes, turning occasionally.
Seafood Skewers with Fresh Fruit SectionsFor a zesty take on skewers, serve shrimp, scallops (or firm-fleshed fish like salmon) on skewers, alternating with fresh fruits. Great fruits to try are tropical ones like pineapple and mango, or stone fruits such as peaches, nectarines, or plums. Baste them lightly with a sauce made with lime juice, cilantro, shallots, cayenne pepper, and garlic while grilling. These skewers will cook within minutes on a hot grill.
Chicken and Scallion SkewersAn easy way to serve chicken is to marinate thinly cut chicken thigh in a mixture of soy sauce, mirin (Japanese rice wine), sake or sherry, sesame oil, and a little sugar. Add these pieces to a skewer, alternating with 1.5-inch portions of scallion (pierced across the stem, not lengthwise), and grill for a few minutes on each side, turning once.
Lamb Koftas (meatballs) on a StickFor a Mediterranean twist to burgers, make meatballs or burger patties using lean ground lamb flavored with lemon juice, cumin, coriander, garlic, and fresh mint. To extend the meat and help bind everything together, add egg and breadcrumbs or use cooked whole grains such as bulgur. If you want to cook this on a skewer, shape the resulting mixture into chunky ovals and gently thread the stick through. Otherwise, flattening them into patties will work just fine.
Indonesian Satay with Peanut SauceFans of satay, which features thinly sliced, well-marinated meats, will tell you that the tasty peanut sauce that goes on the skewers is just as important, if not more so, than what meat gets cooked on the skewers. For a basic satay marinade, puree the following ingredients to a fine consistency: shallots, garlic, coriander, turmeric, tamarind, salt, and palm sugar (or brown sugar). Coat your meat of choice (cut into thin slices) and let it sit overnight in the fridge. A quick peanut sauce can be made by mixing unsalted chunky peanut butter, a few spoonfuls of chopped hot chili peppers, Indonesian sweet soy sauce called kecap manis (substitute with molasses and brown sugar if you can't find it), and a few spoonfuls of hot water. The flavorful sauce is so satisfying, you won't notice the smaller amount of meat.
The Bottom Line
Add flavor and variety to your usual grill menu with skewers. Using skewers lets you combine smaller meat portions with fruits and vegetables, and by experimenting with different types of seasonings, even the meat lovers won't miss their gigantic slabs of meat. If you are using wooden skewers, pre-soak them in water for 20 to 30 minutes or wrap the exposed ends in foil to prevent burning.

Sofia believes in bringing back fun and pleasure into everyday eating. She loves cooking, and is constantly experimenting with ingredients, creating recipes and trying them out on family and friends. Her latest interest lies in finding realistic and practical ways of environmentally-friendly food/eating habits.