Written By: Sofia Layarda, RD
Last Updated on:
As you reach for yet another ice-cold glass of water to keep cool, have you ever wondered why many countries with a hot climate have loads of spicy dishes? For example, the band of Southeast Asian countries are well known for their fiery-hot cooking and dipping sauces, while many of us automatically think of mouth-watering spicy curries at the mention of India. Closer to home, think of the heat from the various chilis you find in Mexican cuisine, hot sauce from the Caribbean, or the smoky heat of the foods from the Southwestern region of the United States.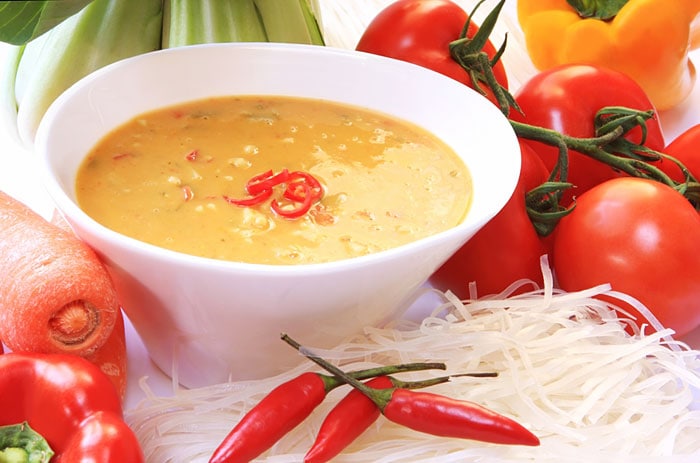 Why Eat Spicy Foods in Hot Weather?
Why eat spicy foods when you have to live with hot weather every day? Spicy foods make us sweat, and sweating is a way for our bodies to cool down. Another bonus of eating spicy foods: The spiciness helps stimulate the production of feel-good endorphins in the body. Some chili peppers and spices such as turmeric and ginger have also been shown to contain high levels of antioxidants. There is some evidence that spicy foods can temporarily boost metabolism.
Having just returned from a Southeast Asian trip, here is a list of new spicy dishes we will make and happily eat, even in the height of summer!
Three Spicy Dishes You Should Try
1. Laksa
There are many different types of laksa, but it typically consists of a steaming-hot bowl of noodles and various toppings swimming in a spicy broth. In North America, Malaysian or Singaporean places that offer laksa usually serve a curry-laced coconut milk-based broth. There is another type of laksa called asam laksa, which has a tamarind-based broth. A quick-and-easy version of laksa broth can be made at home by simmering store-bought Southeast Asian curry paste, broth, and coconut milk (or a mix of regular low-fat milk and coconut milk) and then pouring it over cooked noodles and toppings. To make the taste more authentic, you can add kaffir lime leaves and pounded lemongrass to the simmering broth. Remove the lemongrass and lime leaves before serving. Use any noodle of your choice, but typically the dish uses yellow egg noodles. The toppings tend to be a combination of protein-rich items such as prawns, sliced chicken, hard-boiled eggs, tofu, Asian fish cake, and vegetables such as bean sprouts and chopped scallions.
2. Gado-Gado (Vegan)
Sometimes described as a salad, gado-gado is more like a complete vegetarian meal that happens to be doused in spicy peanut sauce. The word "gado-gado" literally means a mixture, and that is true in the variety of items that are often used: boiled potatoes, blanched kangkong (water spinach or on choy​), bean sprouts, slivers of hard-boiled eggs, fried tofu or tempeh, shredded cabbage, blanched Chinese long beans or green beans, and cucumber. The peanut sauce is a combination of roasted ground peanuts (crunchy unsalted peanut butter makes a great substitute), minced garlic, coconut milk, a sweetener such as palm sugar or brown sugar, salt, and loads of chopped or pureed red chilis (red bird's eye chili is common, but use whatever you prefer or can find). Combine all these sauce ingredients in a pot and bring to a slow simmer over low-to-medium heat, watching and stirring occasionally to prevent burning on the bottom. (If you find the sauce seems to separate, you can add a slurry made with 2 teaspoons of rice flour or cornstarch dissolved in the same amount of water.)
3. Sambal Green Beans
The word sambal in any dish's name should be your clue that it will be spicy. Sambal is a generic term for a chili-laden paste. In this dish, the green beans are added first and pan-seared over high heat for 2-3 minutes. If you can find Chinese long beans in the produce section, try them, as they are what this dish traditionally uses. (Tip: Cut the green beans on a bias, since I find they cook more evenly to a pleasant tender-crisp texture.) Then add a couple of tablespoons of your choice of chili paste and sautee quickly for a minute. The resulting dish is smoky, flavorful, and fiery hot! If you want a shortcut, you can buy premade jars of sambal or chili sauce from the store. If you want to try making your own, I make a quick one by throwing a handful of Thai red chili, 2-3 shallots, 3 cloves of garlic, a pinch of sugar, salt, and sometimes a teaspoon of fish sauce into the food processor.  Other variations include adding 1/2 cup of chopped tomatoes or a teaspoon of terasi (dried shrimp paste). Ideally you would stir-fry the resulting pureed chili mixture with a bit of oil over low heat before using it in this dish. Save the leftover paste for other spicy adventures.
The Bottom Line
Spicy ethnic cuisine is more than just satays and curries. Try one of the above spicy suggestions to cool down in this heat: You may find yourself adding another dish to the list of family favorites!

Sofia believes in bringing back fun and pleasure into everyday eating. She loves cooking, and is constantly experimenting with ingredients, creating recipes and trying them out on family and friends. Her latest interest lies in finding realistic and practical ways of environmentally-friendly food/eating habits.