Top 10 Summer Fruits and Veggies
Summer is here! Well, maybe in some parts of the country, summer is still coming out of hibernation. But there's no question that the days are longer and warmer, and that means that grocery stores and farmers' markets are starting to have a larger selection of fresh, local, seasonal produce on hand. There's no better time than summer to think about adding more fruits and vegetables to your diet, since the selection and quality are excellent, and the price is the best it will be all year.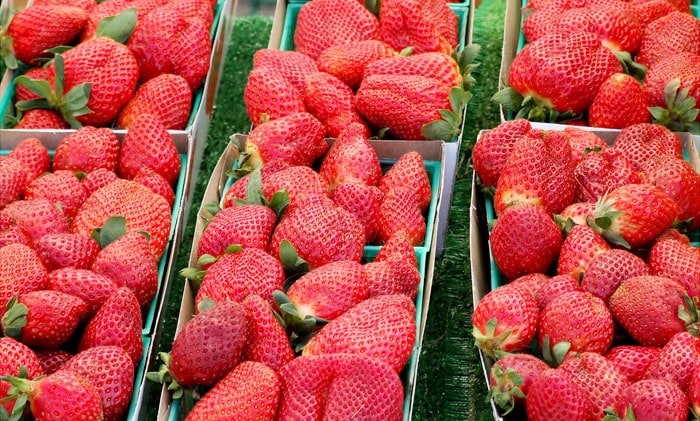 Here are 10 great choices for fresh, seasonal fruits and vegetables you can add to your meals this summer – and why you'll want to do so.
Top 10 Summer Fresh Produce Picks

Cherries
Cherry season starts in June. Cherries' dark red color is a clue that they are high in antioxidants and phytonutrients. They are high in both fiber and Vitamin C.
We tend to think of cherries as working best in sweet dishes, but they can be used in savory dishes like salads, too.
Peas
Fresh peas simply cannot be compared to the frozen kind. They are sweet and delicious, and you can eat them either raw or cooked. Peas are absolutely packed with Vitamin C, and they are also a good source of Vitamins A, K, and B6. They offer plenty of fiber, and can be used as a good source of vegetarian iron.
When using fresh peas instead of frozen in recipes, add them at the very last minute – they should really just be warmed, not cooked, to preserve their sweetness.
Spinach
Local spinach is available fresh all summer long. Spinach is a nutrition powerhouse (just ask Popeye). It's got fiber, protein, calcium, iron, and other minerals, and is a great source of Vitamins A, C, E, K, and B6.
Fresh spinach is great raw in salads, of course, but it can also be used to great effect in hot dishes. Just be sure not to overcook!
Strawberries
Local strawberries knock the socks off berries that have been trucked across the country. They are a great source of Vitamin C and fiber. In fact, just eight strawberries provide more Vitamin C than an orange! They are also rich in antioxidants.
Fresh strawberries are super-sweet and incredibly delicious in desserts or on top of ice cream.
Asparagus
Asparagus is an excellent source of folate, a nutrient important in maintaining proper cardiovascular function. It's a great source of Vitamins A, C, and K, as well as the B vitamins and potassium, plus it provides fiber.
Asparagus is a great vegetable to cook on the grill, so it's a perfect choice for summer cook-outs.
Beets
Beets are available starting in July, and you'll find them right through October. They pack in plenty of fiber, Vitamin C, and magnesium and potassium.
A big green salad with beets and walnuts offers a full, nutritious meal, and roasted beets make an excellent side dish.
Blueberries
Blueberries are about as healthy a food as you can get, and they'll start to hit stores in July. In addition to fiber, Vitamin C, Vitamin K, and manganese, they're loaded with antioxidants and phytonutrients. When they're in season, it's a great time to visit a u-pick farm and buy several boxes full of fresh berries.
Eat blueberries as a snack, toss them in salads, and use them for beautiful desserts. Blueberries also freeze really well, so you can save some of that summer sweetness for the dark days of winter, too.
Corn
Fresh corn on the cob is a late-summer treat that's perfect for camping or barbecues. It's a good source of fiber, Vitamin C, and manganese, and it provides some antioxidant phytonutrients. Close to 90% of the corn grown in the United States is genetically modified, so keep an eye out for certified organic or heirloom varieties. And remember, since the sugar in corn starts to turn to starch as soon as it's picked, you should cook and eat your corn as soon as possible after you get it home.
Green Beans
Green bean season lasts into early fall, so they're a great option as some of the other summer produce starts to disappear. They're a good source of Vitamins C, A, and K, as well as manganese and fiber.
Fresh green beans can be served raw in salads or on a veggie plate, or steam them lightly for a deliciously sweet and crunchy side dish.
Tomatoes
Is there anything better than a fresh, local tomato? Pair them with fresh basil, which is in season at the same time, and they're pretty hard to beat. In addition to Vitamins A, C, and K, and potassium, tomatoes are a good source of lycopene, a carotenoid with many documented health benefits.
The Bottom Line
Buying fresh, local, seasonal produce ensures you get the most nutrition and taste from your fruits and veggies, so you can enjoy adding them to your table all summer long.

Alumni: University of British Columbia – Gloria Tsang is the author of 6 books and the founder of HealthCastle.com, the largest online nutrition network run by registered dietitians. Her work has appeared in major national publications, and she is a regularly featured nutrition expert for media outlets across the country. The Huffington Post named her one of its Top 20 Nutrition Experts on Twitter. Gloria's articles have appeared on various media such as Reuters, NBC & ABC affiliates, The Chicago Sun-Times, Reader's Digest Canada, iVillage and USA Today.
asparagus, beets, blueberries, cherries, corn, fruits, green beans, peas, seasonal, spinach, straw, summer, tomatoes, vegetables
Mint: Health Benefits and How-To