How To Cook Wheat Berries

Wheat flour is the main ingredient in many of our breads, pasta products, cereals, and other baked goods. Ever wonder where all that flour comes from? Wheat berries. In wheat berries, only the hull (the outermost layer of the grain, which is inedible) has been removed. In the store, you can usually find either white or red wheat berries. They are both whole grains and can be cooked the same way.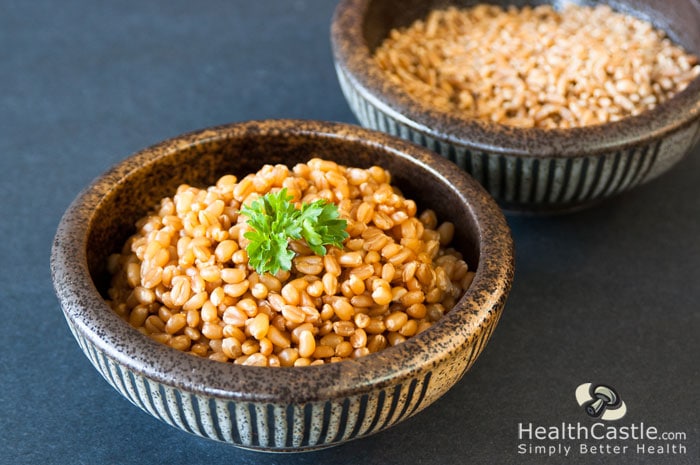 How To Cook Wheat Berries
When it comes to wheat berries, the main thing to remember is that they do take some time to cook, so plan accordingly.
​Starting Amount: 1/2 cup raw
Pre-Soaking Requirement: ​No
​Pre-Rinsing Requirement: ​Yes. Rinse in a colander under running water until the water runs clear. Drain well.
​Cooking Liquid: 1.25 cups water (or broth if preferred)
​Cooking Time: ​Bring water to a boil on the stove. Add rinsed wheat berries to the boiling water and stir. Once water starts to boil again, turn down the heat to low, cover, and simmer for 45 minutes to 1 hour. Fluff with a fork before serving. Once cooked, what berries are a hearty and tasty addition to salads and soups.
​Resulting Yield: ​1 1/8 cups cooked
Nutritional Information (1/2 cup cooked wheat berries):
Calories: 111 kcal
Carbohydrates: 24.9 g
Protein: 3.5 g
Fat: 0.5 g
​Fiber: 4.3 g
​Glycemic Index (GI): ​Low
Gluten-free: ​No
How to Add More Wheat Berries to Your Diet

Alumni: University of California, Berkeley – Sofia believes in bringing back fun and pleasure into everyday eating. She loves cooking, and is constantly experimenting with ingredients, creating recipes and trying them out on family and friends. Her latest interest lies in finding realistic and practical ways of environmentally-friendly food/eating habits.