Written By: Sofia Layarda, RD
Last Updated on: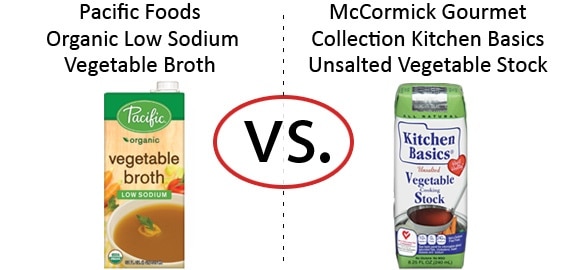 January brings new year's resolutions – and leads many of us to do a pantry cleanse to start the year off right. One of the most common pantry staples is canned or tetra-pack broth. While it's nice to be able to make your own broths or soup bases from scratch, the reality is many of us resort to pre-made broths or soup mixes to help shorten preparation time in the kitchen. Here we look at two broth products from two companies that position themselves as producing all-natural products.
Nutrition Faceoff: Vegetable Broths
Pacific Foods Organic Low Sodium Vegetable Broth
McCormick Gourmet Collection Kitchen Basics Unsalted Vegetable Stock
Serving Size
1 cup
1 cup
Calories
15 kcal
20 kcal
Total Fat
0 g
0 g
Protein
0 g
2 g
Total Carbohydrates
3 g
4 g
Sugar
2 g
3 g
Sodium
140 mg
240 mg
Ingredients
Water, carrots*, tomatoes*, celery*, onion*, garlic*, leeks*, sea salt, bay leaves*, parsley*, thyme*

*Organic

Vegetable stocks (onion, celery, carrot, mushroom, red pepper), tomato paste.
Nutrition Faceoff: Vegetable Broths – Dietitian's Take
Compared to some other pre-made broths on the market, these two products have fairly simple ingredient lists. We are curious, though, why the McCormick's Kitchen Basics product contains more sodium per serving even though salt isn't explicitly stated in the ingredient list; especially since the product is marked as "unsalted". This suggests that the "vegetable stocks" listed on the ingredient list may be pre-made stock (with sodium) instead of actual vegetables being used to make this specific stock. Another possibility is that the sodium may be in the pre-made tomato paste.
Our Pick:  Pacific Foods Organic Low Sodium Vegetable Broth
Just like how you would make your stock at home, vegetable-based broth should basically be water that has been flavored with vegetables and herbs, and that is what the Pacific Foods product is. The organic certification also provides helpful reassurance that the vegetables and herbs that go into making the broth are organic.

Sofia believes in bringing back fun and pleasure into everyday eating. She loves cooking, and is constantly experimenting with ingredients, creating recipes and trying them out on family and friends. Her latest interest lies in finding realistic and practical ways of environmentally-friendly food/eating habits.