Pumpkin: Health Benefits and How-To

It is easy to treat pumpkins as mere decorations, especially at this time of the year. The large carving pumpkins are not good for eating because they have stringy flesh, but you can get pumpkin varieties with sweet flesh. For example, some stores carry sugar pie pumpkins or cheese pumpkins, which are sometimes called Cinderella pumpkins. Some stores will label these as "baking" pumpkins.
Nutrition Tidbits for Pumpkin
1/2 cup of cooked, boiled, drained pumpkin contains:
Calories: 24 kcal
Fat: 0.1 g
Carbohydrates: 6 g
Protein: 0.9 g
Fiber: 1.3 g
Glycemic Index: Low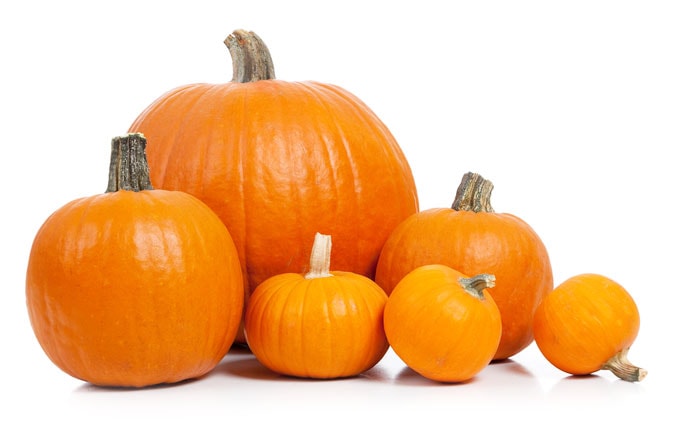 Like many other varieties of winter squash, pumpkins are packed full of carotenoids including lutein,a nutrient important for eye health, as well as zeaxanthin and beta-carotene, all of which are powerful antioxidants. To top it off, pumpkin also contains Vitamin A, another well-known antioxidant in its own right, as well as potassium, which has been shown to help counteract the effects of sodium in hypertension.
Sugar pumpkins are typically much smaller than carving pumpkins. They may be orange skinned, but some varieties are white or yellow. A 6-to-8 inch diameter pumpkin would yield about the same amount of puree as what you can get from a 16-oz can of pumpkin puree.
Because of the thick skin, pumpkins generally keep well. When looking for pumpkins, pick one that feels heavy for its size and has no soft spots or broken pieces on the skin.
How to Get More Pumpkin in Your Diet
Add pureed pumpkins to mac and cheese, stews, and casseroles.
Want a savory way to enjoy pumpkins? Try this Pumpkin and Red Bean Curry.
Slice up the pumpkin, coat the pieces with cornmeal or panko breadcrumbs, and bake. Enjoy with a drizzle of honey.

Alumni: University of California, Berkeley – Sofia believes in bringing back fun and pleasure into everyday eating. She loves cooking, and is constantly experimenting with ingredients, creating recipes and trying them out on family and friends. Her latest interest lies in finding realistic and practical ways of environmentally-friendly food/eating habits.