Salad Pitfalls You Can Avoid

Are you ordering salads at restaurants because you want something light and healthy? You might be unpleasantly surprised to discover that they can be anything but light and healthy. Think twice before you munch your way through another big bowl of supposedly healthy salad from a restaurant and watch out for some common salad pitfalls. We have surveyed some popular restaurants and fast food chains to reveal their darkest salad secrets.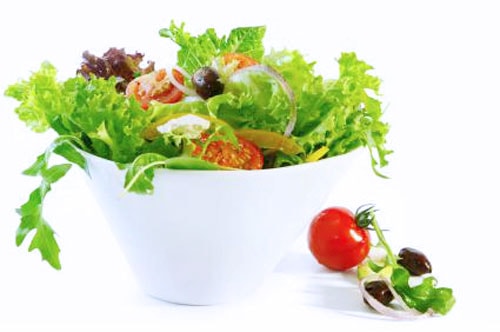 Some Salad Shockers
Highest in Calories and Highest in Sodium: Carolina Chicken Salad (Ruby Tuesday)
Calories: 1157kcal
Fat: 70g
Fiber: 11g
Sodium: 2891mg
What can one do to a salad to morph it into a 1157-calorie and 2891-milligram-sodium disaster? Simply add fried chicken, cheddar cheese, bacon, and croutons and drown it in dressing. All the goodness that the greens, almonds, and tomatoes may deliver probably won't cancel out the damage this meal can cause.
Highest in Fat: Southwestern Beef Salad (Ruby Tuesday)
Calories: 1139kcal
Fat: 81g
Fiber: 10g
Sodium: 2345mg
The winner in this category is also a close runner-up in the highest calories and highest sodium categories. For this salad, the "premium ground beef," the "mixture of shredded cheeses," plus the tortilla chips and southwestern ranch dressing work together to push the fat content of a supposedly healthy salad to over 80 grams. The Chicken Caesar Salad at the Outback Steakhouse also deserves a dishonorable mention in this category. With the romaine lettuce swimming in artery-clogging creamy dressing and topped with generous portions of cheese, this salad finishes at 71 grams of fat.
Lowest Amount of Fiber: Garden Fresh Salad (Olive Garden)
Calories: 350kcal
Fat: 26g
Fiber: 3g
Sodium: 1930mg
If you think you are knocking out your daily fiber intake by consuming this salad, you will be dismayed. The fiber content in most of the salads we surveyed sits at around 7-8 grams at the minimum, which is more than double what you get here. Although it is also one of the lowest-calorie salads, the amount of fiber is so low that you might as well skip this and opt for something else.
Smart Salad-Eater Survival Guide
Don't be shy about customizing your salad to cut calories, fat and sodium. Use one or a combination of these steps:
Skip any deep fried add-ons (e.g,. crispy chicken, tortilla chips) and order grilled meat or fish instead.
Order dressing on the side, and choose vinaigrette over creamy dressings.
Avoid salads that contain lots of cheese (e.g., Caesar salad), or ask the restaurant to go easy on cheese.
Avoid salads that are made with iceberg lettuce as the main ingredient, as they offer virtually no nutrients and no fiber.
Avoid hearty salads such as potato salads and pasta salads.
Choose salads that offer a variety of colors (e.g., dark green leafy vegetables, avocados, carrots, corn, red pepper, etc.), or contain nuts and seeds for maximum nutrition.
Ordering a half portion if the portion size is excessive.
Build your own salad if a salad bar is available.
When we put these strategies into practice, we found the following best-in-class salads that deserve a try:
Restaurant Category: Asian Salmon Spinach Salad (Ruby Tuesday)
Calories: 494kcal
Fat: 20g
Fiber: 9g
Sodium: 729mg
Not only is this salad calorie- and fat-wise, it is also packed with nutrients. The salmon delivers a good dose of omega-3 fats, black bean and edamame add iron and fiber (plus much more), while spinach is a nutrition powerhouse. Just go easy on the dressing and you will have a fabulously tasty and healthy meal.
Fast Food Joint: Apple Pecan Chicken Salad (Wendy's)
Calories: 580kcal
Fat: 27g
Fiber: 6g
Sodium: 1590mg
This is not your average fast-food salad with only iceberg lettuce plus a few shreds of carrots. Made with a variety of greens that contain more nutrients, apples, dried cranberries and real blue cheese, enjoying this salad is way better than chomping on a burger with fries although the sodium level is still less than ideal.

Alumni: University of British Columbia – Owennie is a registered dietitian with a soft spot for chocolate and coffee. She is a believer in balance and moderation, and is committed to keeping healthy eating enjoyable and fun. Owennie received her dietetics training in Vancouver, and is a member of Dietitians of Canada and the College of Dietitians of British Columbia. She has experience in a wide variety of settings, such as clinical nutrition, long-term care and outpatient counseling. Owennie has also worked for a community nutrition hotline and participated regularly as a guest radio host, where she enjoyed sharing her passion and knowledge about food and nutrition with people.