Dining Out with Diabetes: Japanese Restaurants
Japanese cuisine is extremely popular in the United States. Most people have tried sushi – and love it – or have had an entertaining meal at a hibachi grill. Dining at a Japanese restaurant can definitely be part of a healthy diabetes meal plan. Use the following tips and suggestions to make healthy choices while enjoying dining out at Japanese restaurants.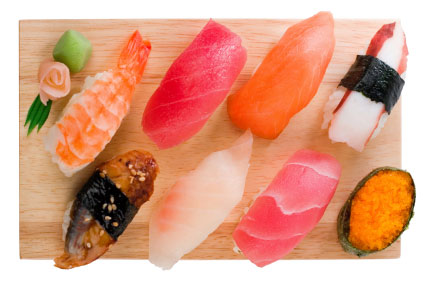 What's on the Menu?
Rice, noodles, beans, vegetables, meat and, of course, seafood are the basic staples of Japanese food – so there is lots to choose from. Familiarize yourself with the way entrees are prepared and the style used to prepare your meal. For example, appetizers or entrees that are tempura-based have been deep fried in a light batter. Udon noodles are thicker than soba noodles. Knowing these differences will allow you to determine which foods will fit best into your meal plan.
When eating at a hibachi restaurant ask for either rice or noodles – not both – so you can limit your carb intake, and limit the dipping sauces, which can contain carbs from sugar. To enjoy a lower fat meal ask for extra veggies with less protein, or save part of your meal for the next day.
Eating Inside the Box (or Made to Fit)
Many Japanese menus feature Bento box meals. These are single-portioned meals that consist of rice, meat or fish, and pickled or cooked vegetables served in a sectioned box-like plate. This is a great option for people with diabetes who do not want to over-eat, but still want to enjoy a variety of foods. Traditionally Bento boxes were meals that were packed at home, but recently these creative Bento boxes have become a popular way for people to prepare healthy portion-controlled meals.
Diabetes Eating: How many carbs are in a sushi roll?
It can be hard to know how many carbs are in a typical sushi roll (6 pieces). You have rice, knori (or seaweed), vinegar, and the fish or vegetables in the middle. The rice used to make sushi is short grain, "sticky," and contains more carbs than regular rice. The vinegar is carb-free, but the knori has about 5-10g of carbs per roll. The table below will give you an idea of the total carbs in a basic sushi roll. Note that sushi with tempura will be higher in carbs than vegetable rolls like avocado and cucumber.
Basic Sushi Rolls (estimated per entire roll, not each piece)
Avocado Roll
Calories – 140
Fat – 5.7 g
Total Carbs – 28 g
Fiber – 5.8 g
California Roll
Calories – 255
Fat –  7.0 g
Total Carbs – 38 g
Fiber – 5.8 g
Kappa Maki (cucumber roll)
Calories – 136
Fat – 0 g
Total Carbs – 30 g
Fiber – 3.5 g
 Spicy Tuna Roll
Calories – 290
Fat – 11 g
Total Carbs – 26 g
Fiber – 3.5 g
Shrimp Tempura Roll
Calories – 508
Fat – 21.0 g
Total Carbs – 64 g
Fiber – 4.5 g
Salmon & Avocado Roll
Calories – 304
Fat – 8.7 g
Total Carbs – 42 g
Fiber – 5.8 g
Tuna (Maguro) Roll
Calories – 184
Fat – 2.0 g
Total Carbs – 27 g
Fiber – 3.5 g
Eel (Unagi) and avocado Roll
Calories – 372
Fat – 17 g
Total Carbs – 31 g
Fiber – 5.8 g
Note: Estimates based on data collected from various restaurants and supermarkets that make their information publicly available. From website www.sushifaq.com
Note: Fiber is calculated per roll based on information from the USDA Nutritional Database
The Bottom Line
There are plenty of healthy options when dining out at Japanese restaurants. For people with diabetes, portion control is always key – as is knowing how your meal is prepared to avoid hidden carbs from sauces and batter. Here is a list of foods to help guide your dining experience and keep you on track to good diabetes management.
Lighter fare:
Edamame (steamed soybeans)
Seaweed salad
Steamed tofu
Miso Soup
Ramen (noodle soup)
Vegetable gyoza (dumplings – originally Chinese)
Avocado sashimi (sliced avocado with ginger sauce)
Shumai (steamed dumplings – pick veggie or chicken)
Yakitori (grilled chicken)
Chicken teriyaki bento box
Items to share:
Fried wonton
Agedashi tofu (deep fried tofu)
Shrimp and vegetable tempura
Niku-itame (stir-fried pork)
Beef teriyaki (grilled or roasted beef in a sweet sauce)
Yaki Soba (meat or fish with stir-fried noodles and cabbage)
Sushi samplers
Specialty rolls (may have more ingredients than basic rolls)

Alumni: University of Florida – Sejal is a registered dietitian, a certified diabetes educator and she holds a masters degree in nutrition and health. Sejal was the project coordinator for the Veteran's Administrations (VA) national weight loss program and previously worked for the VA hospital in Tampa, FL as a Spinal Cord Injury dietitian.
Sejal has had numerous clinical and community education experiences, including pediatric and intensive care nutrition support. She has also had the opportunity to teach nutrition courses at the community college level to students interested in pursuing health professions. One of her favorite areas of education is diabetes management.
blood sugar, diabetes, diabetes diet, healthy dine-out, japanese, sugar, sushi
5 Healthy Eating Habits that Adults Can Learn from Kids