5 Spring Veggies to Plant Indoors

Depending on where you live, you may still be firmly under winter's grasp, or the early signs of spring may be, so to speak, in full bloom. No matter what weather you're facing, one thing is certain: If you love gardening, you're starting to get excited. It's time to start thinking about what tasty treats you'll grow in your own garden this year, and in many areas it's even time to start putting seeds in the ground!
I'm a firm believer in gardening in whatever space you have, whether it's growing sprouts on your kitchen counter, a few pots of tomatoes and peppers on a balcony or fire escape, or an extensive in-ground garden in your yard or a community garden plot.
So, what healthy veggies can you start planting now? Here are our top picks for planting in early spring: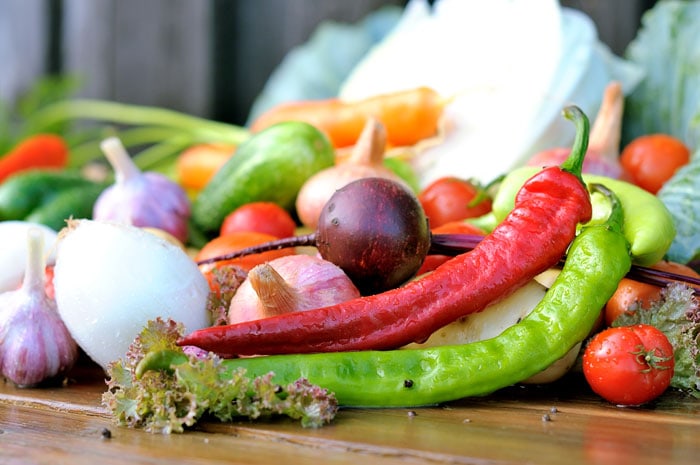 Top 5 Veggie Picks for Early Spring Planting
Broad Beans (also called fava beans)
Broad beans are one of the first food crops to be planted in the spring – in mild areas as early as February. The plants produce lovely, orchid-like flowers that are replaced by huge pods of large beans. The beans are a bit of work to prepare, as they must be shelled, blanched, and then "shelled" again to remove the thin skin of each bean. But the work is worth it for this tasty early spring treat that provides protein, iron, fiber, manganese, folate, and magnesium.
Arugula (sometimes called rocket)
These spicy greens can be planted in early March in milder areas, and soon after in cooler climates. Arugula adds a lovely bite to salads, and can be used in cooked recipes, too. It thrives in the still-cool weather of early springtime, and provides fiber, calcium, iron, and Vitamins A, C, and K.
Kale
When we talk about dark green leafy vegetables, kale is one of the first to come to mind, and it's also one of the first to go into the ground. Kale does best in the cool weather, having a better flavor than when it gets too hot. It can be used raw in salads, or cooked, especially in soups and pasta dishes. Kale is just packed with protein, vitamins, and minerals, including calcium, potassium, manganese, and Vitamins A, C, K, and B6.
Peas
Peas are the sweetest of the early spring vegetables, and among the most hardy. Both shelling peas (which you remove from the pod) and sugar or snap peas (where you eat the whole pod) can be planted now, but if you plant both make sure to label them well so you know which is which once they come up! Fresh peas are one of the true joys of home gardening. These tasty morsels provide fiber, manganese, and Vitamins A, B6, C, and K.
Radishes
One of my favorite things about growing radishes is the sheer variety available to plant. You can choose from a rainbow of colors and a multitude of shapes – and straight out of the ground they are so much tastier than the sometimes woody and watery versions you buy in the store. The greens from radishes can be saved as well and used to add a spicy, radishy flavor to salads or cooked dishes. Radishes provide fiber, potassium, calcium, and Vitamins B6 and C, while the greens have the added benefits of protein, iron, and Vitamin K.
Veggies to Start Indoors
If it's still just too chilly in your area to face the thought of planting seeds directly in the ground, all of these veggies can be started inside and transplanted once it's a little warmer. For best results, use peat pots or fill toilet paper rolls with potting soil. This allows you to plant the whole starter pot in the ground and avoid disturbing the young seedling's roots.
If it's warm enough to do your spring planting, but you're hungry for more, you can start getting ready for summer by starting peppers and tomatoes indoors on a hot, sunny windowsill.
The Bottom Line
For gardening addicts, spring and summer can't some soon enough. Get a jump on your nutritious spring veggie garden by planting these early-season crops, and enjoy the fruits of your labor well before summer has arrived.

Alumni: University of Victoria – Christina Newberry is a writer and editor whose work has appeared in national and local magazines and newspapers. With a Bachelor's degree in English and Anthropology from the University of Victoria and a Journalism Certificate from Langara College, Christina brings keen curiosity and the love of a good story to her work with HealthCastle.com.
Christina is a passionate traveler and urban gardener with an interest in vegetarian eating and making good, tasty food from scratch. Sharing lessons learned from her own experiences, Christina writes about lifestyle topics for HealthCastle, with a focus on eating well at home and on the road.