Arugula: Health Benefits and How-To
In celebration of spring and sustainable eating, we thought it would be appropriate to highlight a vegetable you can grow in a pot without a lot of work. Arugula, our pick this month, is a dark green leafy vegetable with many names including rocket, roquette, rucola, eruca, or rocket salad. It grows well in a mild, cool springtime setting with some sun.
If you are not a gardener, you may only have come across arugula as one of the many irregularly shaped green leaves in a pre-packaged salad mix you find in the grocery store cooler section. More recently, packages or bunches of arugula have become more available for purchase.
Nutrition Tidbits for Arugula
1 cup of raw arugula contains:
Calories: 5 kcal
Fat: 0.1 g
Carbohydrates: 0.7 g
Protein: 0.5 g
Fiber: 0.3 g
Glycemic Index (GI): Low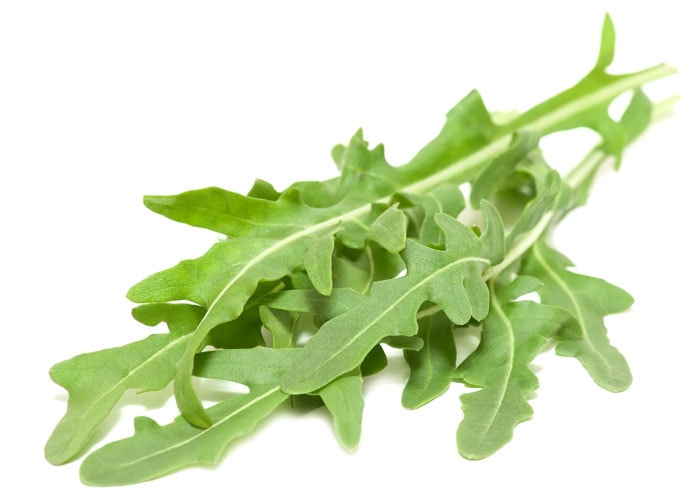 The numbers show that arugula is an ultra low-calorie vegetable that is high in Vitamin K and a good source of Vitamin A. More recently, it has been shown to contain many different phytonutrients that are potent antioxidants, including glucosinolates and sulforaphane. Sulforaphane appears to have a strong protective effect on DNA. Other studies have identified anti-cancer, anti-inflammatory and anti-ulcer effects of the plant. With so much antioxidant capacity in an almost calorie-free package, it is time for this leafy green to start making frequent appearances in our meals!
If you choose to buy arugula instead of growing it, make sure you pick smooth leaves with no slimy spots or edges and use soon after purchase. Because of arugula's nice spicy, peppery bite, it does well in salads that have contrasting textures and flavors. If you are new to arugula and aren't sure how much "spicy" is too much, you can always use half arugula and half spinach to start. Arugula can also be quickly sauteed or blanched, then added to pasta dishes, casseroles, pizza, stew, or soup. Cooked arugula has a milder flavor than raw arugula. Fans of pesto can easily use arugula in place of basil for a nice change in flavor.
How to Add More Arugula Into Your Diet

Alumni: University of California, Berkeley – Sofia believes in bringing back fun and pleasure into everyday eating. She loves cooking, and is constantly experimenting with ingredients, creating recipes and trying them out on family and friends. Her latest interest lies in finding realistic and practical ways of environmentally-friendly food/eating habits.