Written By: Beth Ehrensberger, RD
Last Updated on: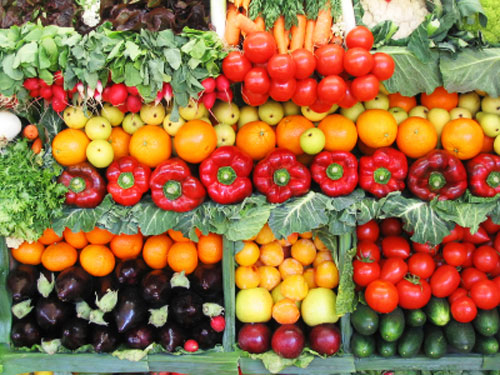 Cool Down Hot Grocery Bills with Seasonal Summer Produce
When skyrocketing grocery and gas prices put a vice-grip on your wallet, it's only natural to search for areas in your personal budget where you could curb spending. Rather than make cuts to your grocery bill with nutritionally inferior foods, look instead for savvy ways to save in the produce section, where it's easy to take control of spending.
Health Is In Season
Luckily, one of the best ways to cut your grocery costs during the summer is also one of the tastiest and healthiest! You can't fool Mother Nature: only seasonal produce tastes as good as it looks, unlike off-season fruits and vegetables. And it's not just better flavor you'll be getting with seasonal summer produce. Increased geographic availability means a shorter span between harvest and table, which preserves more nutrition since nutrients break down as fruits and vegetables wait for consumption.
Fruits and Vegetables: What's in Season?
If you're looking for seasonal summer produce in the United States, it's simple to locate a grower close to you via the internet with zip-code based web searches like LocalHarvest.org. Depending on where you live, look for an abundance of fresh in-season options during the summer months (June, July and August), such as these listed by the Produce for Better Health Association:
Apricots
Beets
Bell Peppers
Blackberries
Blueberries
Boysenberries
Cantaloupe
Casaba Melon
Cherries
Crenshaw Melon
Cucumbers
Eggplant
Figs
Garlic
Grapefruit
Grapes
Green Beans
Green Peas
Honeydew Melon
Kiwifruit
Lima Beans
Limes
Loganberries
Nectarines
Olallieberries
Okra
Peaches
Persian Melons
Plums
Radishes
Raspberries
Strawberries
Sweet Corn
Summer Squash
Tomatillo
Tomatoes
Watermelon
Zucchini
Take a Taste of the Local Flavor
To increase your savings on seasonal summer produce, bypass the regular grocery store and head to your closest farmer's market. Buying directly from the grower is a great way to save since you eliminate costly store overhead associated with the grocery "middle man." Plus, when you buy directly from the grower, you have advantages you wouldn't have in a traditional grocery store. One great example is the opportunity to buy economical "seconds" – fruits or vegetables that are misshapen, but perfect for dicing into summertime meals. And if you're a loyal customer, you may be able to work out a deal with the grower – it can be surprising how much you can save if you just ask! Another cost-saving bonus to buying local seasonal summer produce directly from the grower is you'll find a much better selection of reasonably priced organic fruits and vegetables than in the grocery store.
But the perks to local summer seasonal produce transcend even you. In supporting local produce, you help sustain community farms, and because of the reduction in environmentally damaging travel time, you do your part to protect the environment, too.
Do it Yourself Produce
It doesn't get any more local than (literally) your own back yard. You don't need much space to grow your own crop – certain varieties of tomatoes and cucumbers can even thrive in pots. Need another reason to get out your gardening gear? A St. Louis University School of Public Health study published in 2007 found that preschool children who ate homegrown fruits and vegetables are more than twice as likely to achieve the goal of 5 daily fruits and vegetables.
The Bottom Line
Everyone benefits when you buy seasonal summer produce. You can not only reduce your grocery bill, but also feed your family the most nutrient-packed foods, reduce strain on the environment, and help sustain your local economy.

Beth Sumrell Ehrensberger is a Registered Dietitian and holds a Master Degree in Public Health. An experienced nutrition counselor, writer and public speaker, Beth specializes in translating complex nutrition information into practical concepts. Beth was awarded a Nutrition Communications Fellowship to the National Cancer Institute, and has worked on the internationally recognized Nutrition Action Healthletter of the Center for Science in the Public Interest.