Nutrition Faceoff: Low-Fat Milk vs. Low-Fat Chocolate Milk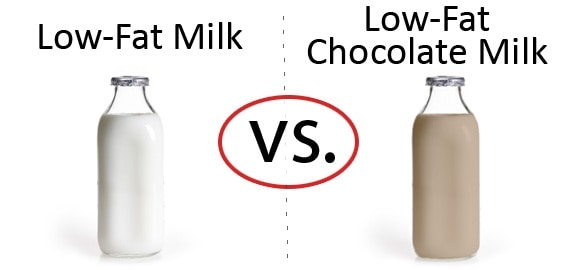 Despite the proliferation of fortified non-dairy milks on the market today, cow's milk remains a significant source of calcium and Vitamins A and D for many. Here we take a look at low-fat (1%) milk, both the plain and chocolate versions.
​Nutrition Faceoff: Low-Fat Plain Milk vs. Low-Fat Chocolate Milk
| | | |
| --- | --- | --- |
| | Plain Milk, Low-Fat | Chocolate Milk, Low-Fat |
| Serving Size: | 1 cup | 1 cup |
| Calories: | 102 kcal | 158 kcal |
| Fat: | 2.4 g | 2.5 g |
| Saturated Fat: | 1.5 g | 1.5 g |
| Protein: | 8.2 g | 8.1 g |
| Total Carbohydrates: | 12.2 g | 26.1 g |
| Sodium: | 107 mg | 152 mg |
| Vitamin A: | 10% DV | 10% DV |
| Vitamin D: | 30% DV | 27% DV |
| Calcium: | 31% DV | 29% DV |
Dietitian's Take: Low-Fat Plain Milk vs. Low-Fat Chocolate Milk
Chocolate milk contains more calories, carbohydrates, and sodium, and slightly less Vitamin D and calcium than plain milk. Specifically, one cup of chocolate milk contains 3.5 teaspoons of added sugar.
Store-bought chocolate milk has more additives. While plain milk has Vitamins A and D added and nothing else, chocolate milk has a much longer ingredient list. Typically, chocolate milk has an added sweetener (sugar or high fructose corn syrup), thickeners or emulsifiers (corn starch or carrageenan), flavorings (vanilla flavor, salt), or artificial colorings.
Our Pick: Low-Fat Plain Milk
Picking plain milk over chocolate milk avoids the added sugar and additives, such as artificial coloring or emulsifiers like carrageenan. However, milk as a beverage choice, whether plain or chocolate, is still better than soda. If you have a child who refuses to drink plain milk, chocolate milk can easily be made at home with cocoa powder and less sugar than the store-bought version. To make a hot chocolate drink, try adding one tablespoon of cocoa powder and one to two teaspoons of sugar to a glass of warm milk.

Alumni: University of California, Berkeley – Sofia believes in bringing back fun and pleasure into everyday eating. She loves cooking, and is constantly experimenting with ingredients, creating recipes and trying them out on family and friends. Her latest interest lies in finding realistic and practical ways of environmentally-friendly food/eating habits.