Top Foodie Tours on Oahu

For many people, Oahu is synonymous with Waikiki – but there's a whole island to explore beyond the Waikiki resorts, much of it rich with farmland producing delicious local foods. Keep in mind that any non-local food you eat in Hawaii is really not local. Hawaii is 2,500 miles from the rest of the United States and more than 3,500 miles from Japan. Most non-local food is transported to the islands on container ships, so it's far from peak freshness. (There's a reason why Spam is more popular on Hawaii than anywhere else in the United States – it's easily transportable and stores well.)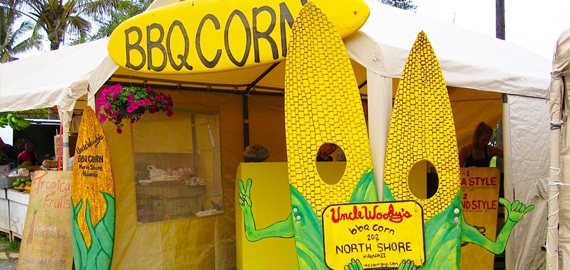 What's surprising is that Hawaii imports at least 85% of its food! But farm-to-table eating is an emerging trend on the islands as both locals and tourists are now seeking out locally grown food, so it's definitely worth your time to seek out opportunities to explore the islands' local food products and get a taste of the real Hawaii. All of these tours are easily accessible from Waikiki. If you rent a car, you could tackle several in one day.
Here, then, are our top picks for local, natural foodie tours on Oahu.
Top Local, Natural Tours on Oahu
North Shore Food Tour by Hawaii Food Tours
Matthew Gray is a former chef, food writer, and restaurant critic. He's been leading food tours on Oahu for years, and he's earned many awards in the process. His longest-running tour, which takes visitors to a series of Honolulu eateries, was chosen "Best tour or activity in Hawaii" in the About.com Readers' Choice Awards. His new North Shore Food Tour will take visitors to the North side of the island, where much of the farmland is located. The tour will stop at farms, plantations, and local foodie favorites, focusing on farm-to-table treats. Visitors will get to taste the North Shore's famous garlic shrimp, local tropical fruits, and local treats from roadside food trucks, among other local food items. This tour includes all transportation from Waikiki hotels – no rental car required.
Tropical Farms Macadamia Nut Farm Outlet
This shop run by a local family offers free coffee and macadamia nut samples (including unshelled macadamia nuts you can crack open yourself). There's also a paid tour ($20 adults/$10 kids) that takes you through the farms. You'll see how coconuts are opened and used (and get to sample the freshly cracked coconut), learn about crops including coffee and tropical fruits, and try some fresh fruit samples. The tour also includes a fire show and a scenic boat ride of an area where many movies and TV shows have been filmed. The tour is not listed on the shop's website – just head out behind the shop and you will find information about the tour. Visit early in the morning to avoid tour bus crowds.
Hawaii's Plantation Village
The Plantation Village is billed as an "outdoor museum of Hawaii's cultural history." It shows visitors what life was like on Hawaii's sugar plantations, covering more than 100 years of the island's history. Guided tours are offered Monday through Saturday for $13. This is a historical tour rather than a tasting tour, with visitors getting to see how the many immigrant groups who farmed the sugar plantations really lived. If there's time (the tour is supposed to take one hour, but realistically it takes more than two hours), you may be able to pick fresh fruit from the trees on the plantation, including apples and mango.
Kahuku Farms
Kahuku Farms has a cafe where you can eat food produced on the farm, including fruit smoothies and veggie pizza. They also offer a tractor-pulled wagon ride farm tour ($15 adults/$12 kids) that takes you through the fields. You'll learn about the history of the farm, and you'll get to sample fresh papaya and other fruits at the end of the tour.
Oahu's Farmers' Markets
Oahu has an absolute ton of farmers' markets, and the hosts of condo rental service HawaiiGaga.com have created a helpful Google Map that shows where they are all located and lists opening times and hours. With several markets open most days of the week, you could easily create your own tour if you've got a rental car. Weekend days have the most options. If you don't want to rent a car, several are easily accessible from Waikiki by foot or bus, including the Tuesday morning market at Waikiki Community Center, the Wednesday morning market at Queen Kapiolani Park, the Thursday evening market at the International Marketplace, and the massive Saturday morning market at Kapiolani Community College.
The Bottom Line
Oahu has loads of fresh food to explore, including some of the best papaya you'll find anywhere (I got three of them for $3 at a farmers' market!). Venturing a little beyond the tourist track is well worth it to find some of the island's local foods and learn about about its food culture and history.

Alumni: University of Victoria – Christina Newberry is a writer and editor whose work has appeared in national and local magazines and newspapers. With a Bachelor's degree in English and Anthropology from the University of Victoria and a Journalism Certificate from Langara College, Christina brings keen curiosity and the love of a good story to her work with HealthCastle.com.
Christina is a passionate traveler and urban gardener with an interest in vegetarian eating and making good, tasty food from scratch. Sharing lessons learned from her own experiences, Christina writes about lifestyle topics for HealthCastle, with a focus on eating well at home and on the road.