Go Green at Hong Kong Harbour City

As my second book was released in Hong Kong a few months ago, traveling to this metropolitan city has become a monthly trip. Shopping in Hong Kong is irresistible, regardless of how many times I've been there.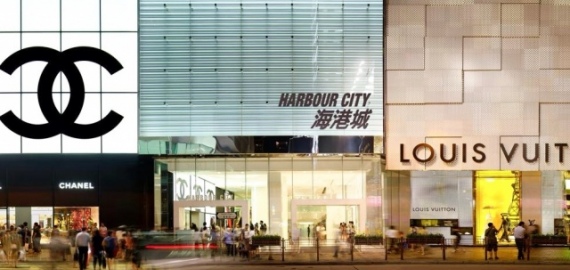 Most shopping centers are similar in Hong Kong: white in color, multi-floor, crowded, and full of brand names. Instead of being repeatedly disappointed, I recently decided to choose my shopping destinations based on food. My biggest obstacle is that dining out as a vegetarian isn't easy in Hong Kong, so I'm happy that I was introduced to Harbour City, located in Tsim Sha Tsui.
Green Dining
Harbour City's Green Dining pamphlet was what caught my eye! Going through its mouth-watering healthy food photos, I had a chance to study some of the restaurants located in Harbour City that serve healthy meatless dishes. You may wonder why I needed a pamphlet to choose a restaurant. No kidding, the shopping center is so huge that its complete dining guide is 30 pages long!
With my multiple trips to Harbour City in the past few months, I'm excited to share my two favorites!
C'est La B: Healthy & Dainty
This cafe is obviously playful with its name, based on its founder's love of butterflies. With beautiful decor and relaxed yet private seating, C'est La B serves fusion dishes with healthy choices of ingredients. My favorite is their Om Box – a vegetarian bento box with bocconcini, fresh salad, and vegetarian fried rice with a mixture of brown, wild, and white rice. The presentation is just so spot-on that it makes me go there again and again.
M&C.Duck: A Surprise
To be honest, I almost wrote this restaurant off and never thought I would write about it. First, it's not a restaurant that screams healthy eating. Second, its signature dish is indeed barbecued Peking duck. With this in mind, I didn't expect I would be pleased with the vegetarian dishes. Boy, was I wrong.
Yes, it's a Chinese restaurant, but its design is chic and relaxing. Overlooking the beautiful harbor, the vibe is youthful and energetic. The two dishes that changed my mind were the lettuce shoot "noodles" and fried brown rice with assorted veggies and walnuts. Then I was completely sold when I checked out the dessert menu. Whole, healthy ingredients are selected: fruit, water chestnut, black sesame, almonds, pumpkin, and beans. On one occasion, I felt like I just wanted to order all desserts!
It really pays off doing research before heading to a travel destination! If you're heading to Hong Kong this summer, I highly recommend visiting Harbour City and try their exquisite restaurants. And yes, you need a map!

Alumni: University of British Columbia – Gloria Tsang is the author of 6 books and the founder of HealthCastle.com, the largest online nutrition network run by registered dietitians. Her work has appeared in major national publications, and she is a regularly featured nutrition expert for media outlets across the country. The Huffington Post named her one of its Top 20 Nutrition Experts on Twitter. Gloria's articles have appeared on various media such as Reuters, NBC & ABC affiliates, The Chicago Sun-Times, Reader's Digest Canada, iVillage and USA Today.