A spectacular artwork created using 13 million cranberries is one of the many exciting displays unveiled during the Vancouver 2010 Winter Olympic Games. Displayed in the Brighouse Park adjacent to the Olympic celebration site Richmond O Zone, this massive artwork truly showcases the largest cranberry producer in the region.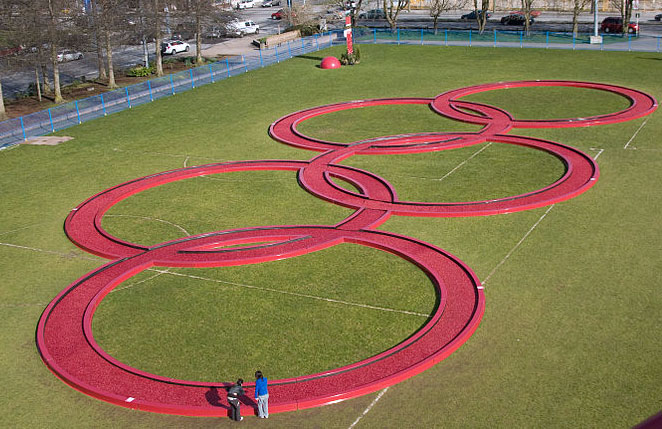 Cranberries: Not a Water Plant
You have probably seen pictures of cranberries being harvested in a big swamp of water. But cranberries are not water plants at all. Lisa May, a third generation cranberry grower at Maybog Farms in Richmond, BC, revealed that cranberry vines usually blossom in May and the berries are set during the summer. When it's time to harvest in October, she floods the bog with water. That's because with four air chambers, cranberries simply float on water. She then uses a machine called a beater to pop the berries off the vine. Along with 60 other cranberry farms in the area, Maybog is part of the Ocean Spray Co-Op, packaging cranberry products only a few blocks away from their farms.
Tiny Cranberries – Not Just a UTI-Fighter
Cranberries are most known for their anti-urinary tract infection (UTI) properties. A UTI is usually caused when bacteria are attached to the bladder and urethra wall. Scientists at Worcester Polytechnic Institute in Massachusetts found that a group of tannins called proanthocyanidins in cranberries are able to alter the shape and members of these bacteria, making it difficult for them to contact human cells.
But cranberries are more than just UTI fighters. Similar to other deep red and purple fruits, cranberries contain anthocyanins, powerful antioxidants that have been shown to ward off heart disease by preventing clot formation. Animal and lab studies also showed that cranberries may inhibit the growth of breast, lung, and colon cancers.
Ways to Include Cranberries In Your Diet
You don't need to wait until Thanksgiving to enjoy cranberries. Cranberries freeze really well, so stock up when they're fresh.
Fresh cranberries are well suited for recipes that call for tangy flavor, such as fruit pies. Also, you may toss in some fresh cranberries when roasting your pork loin. Or, add color and flavor to your water by simply freezing some cranberries as ice cubes!
Add dried cranberries to salad, trail mix, breakfast cereal, yogurt, and so on. Note that most commercially processed dried cranberries have extra sugar and oil added.
Enjoy cranberry juice. Most cranberry juices on the market are actually cranberry juice cocktails, which have water and sugar or artificial sweeteners added. Some are mixed with other fruit juices like grape juice, apple juice, or other berry juices. To reap the health benefits of cranberries, look for juices that are made with 100% fruit juice with no added sugar, and with cranberry juice listed no later than the third ingredient on the ingredient list.
Gloria Tsang is the author of 5 books and the founder of HealthCastle.com, the largest online nutrition network run by registered dietitians. Her work has appeared in major national publications, and she is a regularly featured nutrition expert for media outlets across the country. The Huffington Post named her one of its Top 20 Nutrition Experts on Twitter. Gloria's articles have appeared on various media such as Reuters, NBC & ABC affiliates, The Chicago Sun-Times, Reader's Digest Canada, iVillage and USA Today.