Written By: Gloria Tsang, RD
Last Updated on:
Taste aversion, nausea, sore mouth, weight loss – if you or anyone in your family has undergone cancer treatment therapy, you know how invasive these side effects are. Despite trying every diet strategy I was aware of, I remember feeling defeated when my father lost 10 pounds of weight in the second week of his radiation therapy in 1997.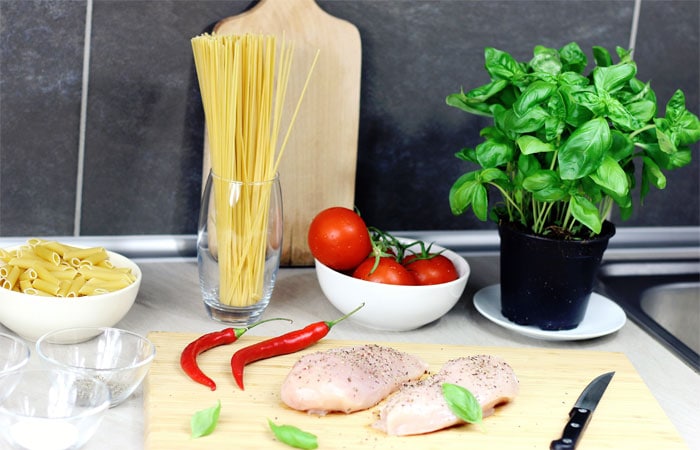 Rebecca Katz had a similar experience when her father went through cancer treatment in 2000. A chef at a vegetarian restaurant, Katz was at a loss about what to cook for her father – but she did not stop looking for answers. This personal experience drove her to be more interested in finding solutions for cancer patients. She went on to become a senior chef at the Commonweal Cancer Help Program in California, and the Executive Chef for the Center for Mind-Body Medicine's Food as Medicine program.
Katz also wrote The Cancer-Fighting Kitchen, a resource book I wish I'd had back in 1997.
Diet Strategies for Taste Changes During Cancer Therapy
Katz's solutions to revitalize taste buds? Stock an FASS culinary tool kit, which stands for Fat, Acid, Salt, and Sweet. In Katz's kitchen, "olive oil represents the fat, lemons are the acid, sea salt is the salt, and organic maple syrup or agave is the sweet."
| | |
| --- | --- |
| If Things Taste… | Do the following |
| Like cardboard | Add sea salt, or a spritz of fresh lemon juice |
| Like metal | Add maple syrup or agave, and a squeeze of lemon |
| Too bitter | Add maple syrup or agave |
| Too sweet | Add 6 drops of lemon juice. Then add more in small increments until the sweetness is muted. |
| Too salty | Add 1/4 tsp of lemon juice |
The best part of The Cancer-Fighting Kitchen is the chapter about tonics and elixirs. A soothing, tasty drink is sometimes all a cancer patient asks for, but swallowing a drink becomes challenging if the patient has a sore or dry mouth. The book also include lots of soups, such as the must-have Magic Mineral Broth on page 54, which offers nutrition and taste. In a nutshell, Katz's recipes take into consideration all the circumstances a cancer patient faces, and her book is a must-have for all who are going through cancer radiation or chemotherapy treatments.
Vitamin E supplements may harm patients with head and neck cancer
In a randomized study published in the April 6 2005 issue of the Journal of National Cancer Institute, researchers found that patients receiving a daily supplementation of 400 IU of alpha – tocopherol during and after radiation therapy were at greater risk of developing a second primary cancer while receiving supplementation. In addition, the rate of recurrence of head and neck cancer was also higher during supplementation.
Editor's Note: This unexpected adverse result really cautions us from taking supplements to prevent or treat cancer. We all know the benefits of eating antioxidant-rich fruits and vegetables in promoting good health. On the contrary, high-dose supplements may not produce the same health-promoting effects we wish for.
Vitamin E is a type of antioxidant present in our foods which can prevent or slow the oxidative damage to our body so do not avoid Vitamin E-rich foods based on the result of this study. Vitamin E is not present in foods in mega dose. It can be found in nuts & seeds, whole grains, green leafy vegetables, vegetable oil and liver oil.
Gloria Tsang is the author of 5 books and the founder of HealthCastle.com, the largest online nutrition network run by registered dietitians. Her work has appeared in major national publications, and she is a regularly featured nutrition expert for media outlets across the country. The Huffington Post named her one of its Top 20 Nutrition Experts on Twitter. Gloria's articles have appeared on various media such as Reuters, NBC & ABC affiliates, The Chicago Sun-Times, Reader's Digest Canada, iVillage and USA Today.