Chickpeas: Health Benefits and How-To

In celebration of Heart Month, here's another food to add to a heart-healthy menu: chickpeas. While North Americans are more familiar with the cream-fleshed variety of chickpeas called kabuli or garbanzo beans, a smaller-sized variety called desi is more prevalent in other parts of the world. About 85% of chickpeas produced worldwide are the desi variety and 15% are kabuli.
Chickpeas have a long history as a crop – they were first grown in Turkey in 7,000 B.C. The desi variety is traditionally grown in India and the Middle East; the seeds have a thick, darker-colored coat and are usually available dehulled and split ("chana dal") or dehulled and ground into flour ("besan"). The kabuli variety (also known as garbanzo beans or bengal gram) has a thin, whitish seed coat and is usually used whole or mashed into hummus.
Nutritional Information for Chickpeas
1/2 cup of cooked garbanzo beans contains:
Calories: 134 kcal
Fat: 2.1 g
Carbohydrates: 22.5 g
Protein: 7.3 g
Fiber: 6.2 g
Glycemic Index: Low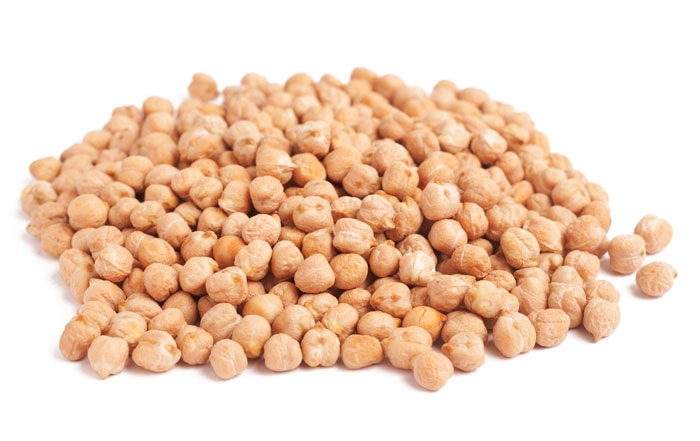 Regular consumption of chickpeas has been shown to reduce the risk of heart disease. Specifically, several studies have demonstrated reductions in total cholesterol and undesirable LDL cholesterol when chickpeas are consumed regularly. One of the possible reasons for this is the unique mix of nutrients found in chickpeas: molybdenum and manganese (important in antioxidant reactions), various phytonutrients in both the skin and the seed that are powerful antioxidants, and the heart-friendly folate. Chickpeas are also a source of polyunsaturated fatty acids, including the plant-based omega-3 fatty acid alpha-linolenic acid or ALA, which serves as precursor to other forms of omega-3 fatty acids.
On top of the nutrient load, chickpeas are very high in soluble fiber. This high fiber load helps with blood sugar regulation and increases satiety (therefore requiring fewer calories to feel full).
Interestingly, the desi variety of chickpeas has been shown to contain higher levels of antioxidants and fiber than the cream-fleshed variety, but they are both great choices nutritionally.
Like many other dried legumes, chickpeas can take a bit of time to cook. If you are in a hurry and want to use canned chickpeas, rinse them under running water and drain before using. If possible, check with the manufacturer to find out whether they're packed in BPA-free cans. If you are purchasing dried chickpeas to cook at home, pre-soaking them can help cut down on cooking time and help reduce the gas-inducing substance.
How to Add More Chickpeas To Your Diet

Alumni: University of California, Berkeley – Sofia believes in bringing back fun and pleasure into everyday eating. She loves cooking, and is constantly experimenting with ingredients, creating recipes and trying them out on family and friends. Her latest interest lies in finding realistic and practical ways of environmentally-friendly food/eating habits.