Written By: Sofia Layarda, RD
Last Updated on:
Our May pick is a legume with a long-standing history of cultivation in many cultures around the world. Also known as broad beans, you can find fava beans in many cuisines, from those in the Middle East and Africa all the way to Europe, Latin America, and Asia.
Nutrition Tidbits for Fava Beans
​1/2 cup of boiled fava beans contains:
Calories: 94 kcal
Fat: 0.3 g
Carbohydrates: 16.7 g
Protein: 6.5 g
Fiber: 4.6 g
Glycemic Index: Low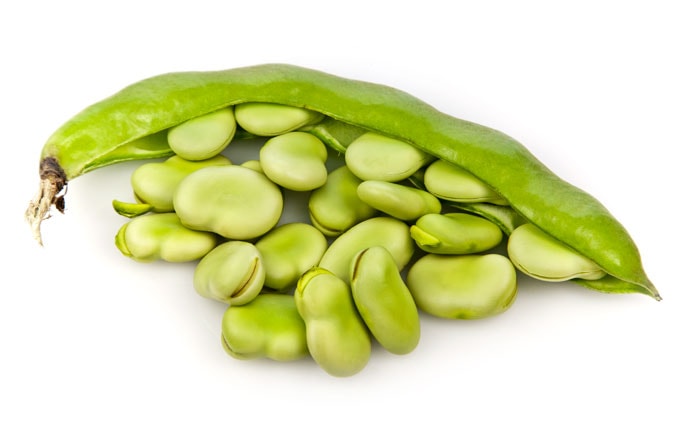 Legumes as a group have many well-known health benefits, but is there anything unique about fava beans' nutritional content? For starters, they contain a substance called levodopa, which is natriuretic (causes your body to excrete excess sodium). Levodopa is also the precursor to the neurotransmitter dopamine, found in low levels in those with Parkinson's disease. Fava beans are also high in fiber, potassium, and folate, and are a good source of iron, zinc, phosphorus, and magnesium.
Fresh fava beans are at their peak in the spring, but only for a few weeks. The fresh beans also require some preparation before eating: first remove the beans from their pods, then blanch to remove the protective white "skin" covering each bean. Another way to prep fresh fava beans is to simply roast them straight in their pods. Shelled, dried beans and canned versions are also available in markets.
Note: ​Fava beans can induce a serious condition called hemolytic anemia in those with favism, an inherited genetic abnormality in the activity of a red blood cell enzyme. The disorder can be detected through a blood test.
How to Add More Fava Beans to Your Diet

Sofia believes in bringing back fun and pleasure into everyday eating. She loves cooking, and is constantly experimenting with ingredients, creating recipes and trying them out on family and friends. Her latest interest lies in finding realistic and practical ways of environmentally-friendly food/eating habits.