High Iron Foods: A Complete List

A diet of high iron foods along with iron supplements is often recommended for women with iron deficiency anemia. However, as iron supplements often result in discomfort, particularly constipation and nauseousness, women prefer to choose eating iron-rich foods more often instead.
Top 10 Iron-Rich Foods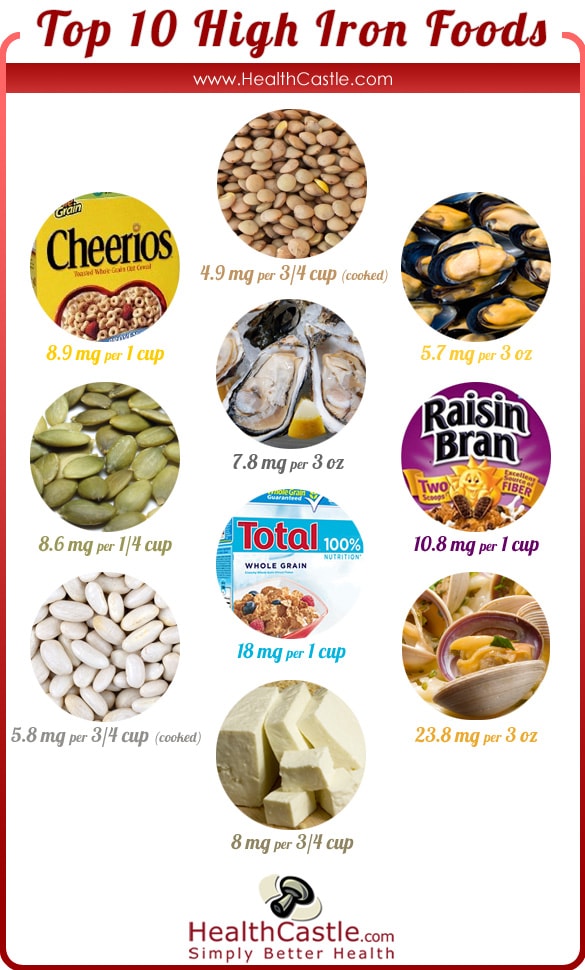 Clams
Total Whole Grain Cereal
Raisin Bran Breakfast Cereal
Cheerios
Oysters
Sunflower Seeds
Tofu
White Beans
Mussels
Lentils
How Much Iron Do You Need?
Iron plays an integral role in the formation of hemoglobin in blood and myoglobin in muscles, both of which carry oxygen to the cells. That's why fatigue and tiredness is the first symptom most people notice when they may be low in iron.
The recommended intake for iron is:
Kids 1-3 years old: 7 mg/day
Kids 4-8 years old: 10 mg/day
Teenagers 9 – 13: 8 mg/day
Teenagers 14 – 18: 11 mg/day for boys & 15 mg/day for girls
Males 19+: 8 mg/day
Females 19-50: 18 mg/day
Females 51+: 8 mg/day
Pregnant Females: 27 mg/day
Top Iron Rich Foods for Iron Deficiency Anemia
Iron absorption is often influenced by multiple factors. One important factor being the form of iron. Heme Iron, found in animal sources, is highly available for absorption. Non-heme iron on the other hand, found in vegetable sources, is less available.
Foods containing Heme Iron
Clams – 23.8 mg per 3 oz
Oysters – 7.8 mg per 3 oz
Liver per 3 oz

Chicken – 8 mg
Beef – 5.8 mg

Mussels – 5.7 mg per 3 oz
Sardines – 2.4 mg per 3 oz
Turkey – 1.6 mg per 3 oz
Beef per 3 oz

Extra lean ground – 2.5 mg
Prime rib – 2.1 mg
Short rib – 2 mg
Rib eye – 1.7 mg
Sirloin – 1.6 mg

Lamb chop – 2.1 mg per 3 oz
Egg – 1.2 mg per 2 large eggs
Foods containing Non-Heme Iron
Pumpkin seeds – 8.6 mg per 1/4 cup
Firm Tofu – 8 mg per 3/4 cup
Beans per 3/4 cup cooked

White beans – 5.8 mg
Red kidney beans – 3.9 mg
Soybeans: 3.4 mg

Lentils – 4.9 mg per 3/4 cup cooked
Some whole-grain breakfast cereals (per cup)

Total – 18 mg
Raisin Bran – 10.8 mg
Cheerios – 8.9 mg
Special K – 8.7 mg
All-Bran – 5.5 mg

Baked potato with skin – 2.7 mg
Chickpeas – 2.4 mg per 3/4 cup cooked
Blackstrap Molasses – 3.6 mg per Tbsp
Prune juice – 3.2 mg per cup
Dried fruits per 1/2 cup

Peaches – 1.6 mg
Raisins – 1.4 mg
Plums – 1.3 mg
Apricots – 1.2 mg

Nuts per 1/4 cup:

Cashew: 1.7 mg
Almonds: 1.4 mg
Pistachio: 1.2 mg
Walnuts: 0.9 mg
Pecan: 0.7 mg
Warning: Pregnant women should not eat liver because of its high Vitamin A content. Large amounts of Vitamin A can be harmful to the baby.
The Magic of Iron-Food Pairing
The absorption of non-heme iron can be improved when a source of heme iron is consumed in the same meal. In addition, the iron absorption-enhancing foods can also increase the absorption of non-heme iron. While some food items can enhance iron absorption, some can inhibit or interfere iron absorption. Avoid pairing these iron-inhibiting foods when you're eating iron-rich foods in the same meal.
Iron Absorption Enhancers
​Meat/fish/poultry
Fruits: Orange, Orange Juice, cantaloupe, strawberries, grapefruit etc
Vegetables: Broccoli, brussels sprouts, tomato, tomato juice, potato, green and red peppers
White wine
Iron Absorption Inhibitors
Red Wine, Coffee and Tea
Vegetables: Spinach, chard, beet greens, rhubarb and sweet potato
Whole grains and bran
Isolated soy ingredients, like products made with soy flour and isolated soy protein concentrate.

Alumni: University of British Columbia – Gloria Tsang is the author of 6 books and the founder of HealthCastle.com, the largest online nutrition network run by registered dietitians. Her work has appeared in major national publications, and she is a regularly featured nutrition expert for media outlets across the country. The Huffington Post named her one of its Top 20 Nutrition Experts on Twitter. Gloria's articles have appeared on various media such as Reuters, NBC & ABC affiliates, The Chicago Sun-Times, Reader's Digest Canada, iVillage and USA Today.