Written By: Owennie Lee, RD
Last Updated on:
Certain foods must be avoided entirely during a baby's first year of life because of their potential to cause food-borne illness, digestive upset, and mercury exposure. It's also important to avoid foods that pose choking hazards for babies.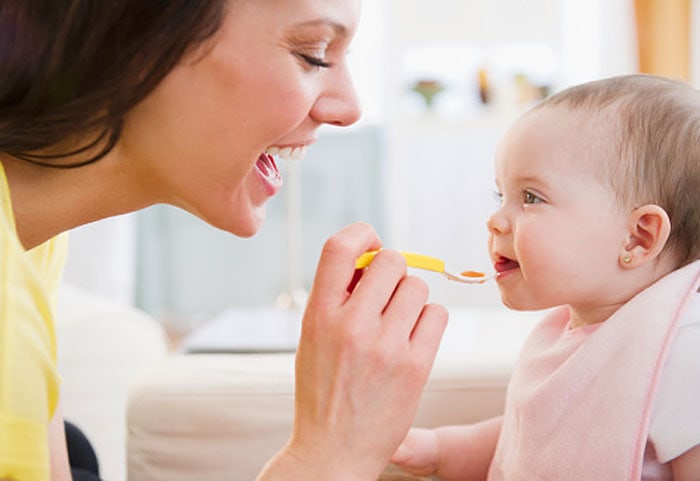 Foods That Should Not Be Served To Your Baby
Food Safety Concerns
Honey (in any form or amount) and corn syrup (to a lesser extent) may contain botulism, a serious food-borne illness that can be deadly for infants less than one year of age.
Low-acid home-canned foods (such as meat, poultry, fish, green beans, carrots, and asparagus) can also carry botulism. If your family eats these foods, it may be wise to avoid serving them to your infant; discuss this with your pediatrician and consult with a reputable home-canning agency.
Digestive Concerns
Milk other than breast milk or infant formula (including cow's, goat's, soy, rice, and almond milks) are difficult for your baby to digest, and are nutritionally inadequate for infants.
Food Allergy Concerns
In the past, experts recommended delaying and/or avoiding certain highly allergenic foods (e.g., peanuts, milk, egg whites, wheat, and shellfish) for babies with a family history of allergies. However, in 2008, the American Academy of Pediatrics issued new guidelines changing some of these longstanding recommendations based on a recent review of existing research on the subject. They concluded that there is no solid evidence that waiting to introduce allergenic foods protects children from developing an allergy.
Environmental Contaminant Concerns
In 2004, the FDA and EPA released a joint advisory that stated young children (including infants under one year of age) should avoid shark, swordfish, king mackerel, and tilefish because of their high mercury content.
They also recommended that young children not be served more than two child-size servings a week of canned "chunk light" tuna and no more than one serving a week of canned "solid white" or albacore tuna.
Nutritional Concerns
Infants and toddlers should not be served sugary or salty foods, nor have sugar or salt added to their foods. Consuming large amounts of sugar or salt is not healthy for youngsters and causes them to develop a taste preference for sweet and salty foods.

Owennie is a registered dietitian with a soft spot for chocolate and coffee. She is a believer in balance and moderation, and is committed to keeping healthy eating enjoyable and fun. Owennie received her dietetics training in Vancouver, and is a member of Dietitians of Canada and the College of Dietitians of British Columbia. She has experience in a wide variety of settings, such as clinical nutrition, long-term care and outpatient counseling. Owennie has also worked for a community nutrition hotline and participated regularly as a guest radio host, where she enjoyed sharing her passion and knowledge about food and nutrition with people.