Health Benefits of Concord Grape Juice

Are you tired of facing down a glass of orange juice every morning? How about trying another juice that has more than twice the natural antioxidant power of orange juice?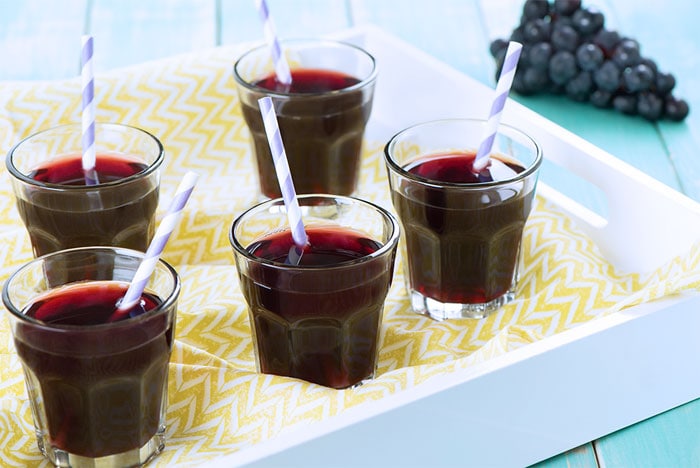 What's in Concord Grape Juice?
Although you're probably familiar with grape juices and jam, you may not know that medical studies on Concord grape juice have been underway for almost 10 years. They've shown that Concord grapes are loaded with various kinds of flavonoids, a type of powerful antioxidant that is also found in berries, cocoa, red wine, and tea. In fact, purple Concord grape juice ranks the highest in antioxidant activity among 13 juices tested, according to a study published in the Journal of Agricultural and Food Chemistry in March 2007.
Adding More Purple into Your Diet
Concord grape juice (not surprisingly) belongs to the purple family. Recent data from the National Health and Nutrition Examination Survey (NHANES) revealed that people who consumed purple/blue fruits and vegetables on a regular basis had a lowered risk of metabolic syndrome. (Metabolic syndrome is a condition in which a group of risk factors for heart disease, including stroke, and Type 2 diabetes occur together)
5 Easy Ways to Adding more Purple into your Diet
As a rule, high-fiber, low-cal, filling real fruit is always better than fruit juice. Toss blueberries into your morning breakfast cereal, or purple grapes into your salad.
If you feel like a glass of juice, try concord grape juice. Make sure to check the labels and look for 100% concord grape juice instead of grape juice blend.
Add raisins or dried plums to your trail mix.
Use grape juice in replacement of red wine in your cooking. This results in dishes with great flavor minus the alcohol. Perfect for everyday cooking!
Try roasting or grilling sliced eggplant
Heart health benefits of Concord Grape Juice
May promote healthy arteries: Researchers from the University of Wisconsin conducted a small study to investigate the potential health benefits of Concord grape juice back in late '90s. They found that people who drank about 2 cups of Concord grape juice daily for 2 weeks had significantly more flexible arteries. The same group of researchers followed up with a second study two years later. They found that similar health effects can be achieved by drinking just one cup of Concord grape juice. The results of this study were published in the American Journal of Cardiology in September 2001.
May lower blood pressure: Researchers from South Korea investigated the effects of drinking Concord grape juice in men with high blood pressure. They found that subjects who drank about 1.5 cups of Concord grape juice daily for 8 weeks significantly reduced both systolic and diastolic blood pressure. The results of this study were published in BioFactors in December 2004.

Alumni: University of British Columbia – Gloria Tsang is the author of 6 books and the founder of HealthCastle.com, the largest online nutrition network run by registered dietitians. Her work has appeared in major national publications, and she is a regularly featured nutrition expert for media outlets across the country. The Huffington Post named her one of its Top 20 Nutrition Experts on Twitter. Gloria's articles have appeared on various media such as Reuters, NBC & ABC affiliates, The Chicago Sun-Times, Reader's Digest Canada, iVillage and USA Today.