Written By: Gloria Tsang, RD
Last Updated on:
Most people think that nuts are high in calories and fat… and they are right! Nuts are quite calorically dense. 15 cashews, for instance, deliver ~180 kcal! On top of that, it is very tough not to overeat these tasty snacks. If you can restrain yourself from overeating them, nuts can definitely be a part of a healthy diet.
Researchers found that people who eat nuts regularly have lower risks of heart disease. In 1996, the Iowa Women's Healthy Study found that women who ate nuts >4 times a week were 40% less likely to die of heart disease. Two years later, another study conducted by the Harvard School of Public Health found a similar result in another group of women subjects. Furthermore, potential heart health benefits of nuts were also found among men. In 2002, the Physician's Health Study found that men who consumed nuts 2 or more times per week had reduced risks of sudden cardiac death.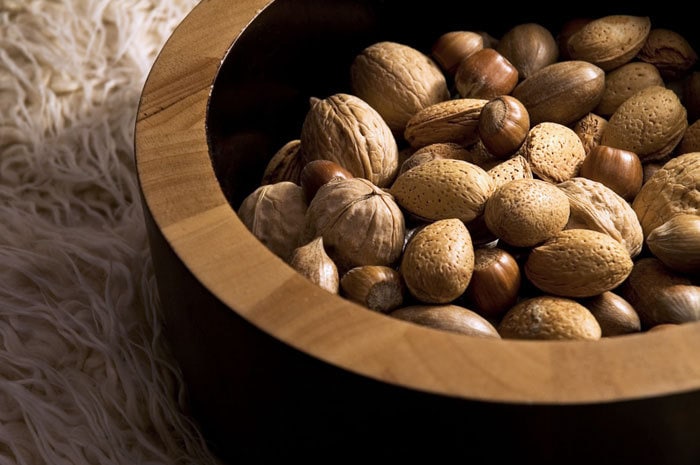 Go Nuts
Nuts are one of the best plant sources of protein. They are rich in fiber, phytonutrients and antioxidants such as Vitamin E and selenium. Nuts are also high in plant sterols and fat – but mostly monounsaturated and polyunsaturated fats (omega 3 – the good fats) which have all been shown to lower LDL cholesterol.
In 2003, the FDA approved the following health claim for 7 kinds of nuts
"Scientific evidence suggests but does not prove that eating 1.5 oz per day of most nuts as part of a diet low in saturated fat and cholesterol may reduce the risk of heart disease."
The best approach is to reap the health benefits of eating nuts but not add excessive calories to your daily intake. So instead of simply adding nuts to your diet, eat them in replacement of foods that are high in saturated fats and limit your intake of these tasty treats to 1 to 2 oz per day . For instance, instead of adding chocolate chips when making cookies, sprinkle on some nuts. Or instead of making a deli meat sandwich, try a nut butter toast.
The Bottom Line
FDA only approved the heart health claim for almonds, hazelnuts, peanuts, pecans, some pine nuts, pistachios and walnuts as these nuts contain less than 4g of saturated fats per 50g. However that doesn't mean you should restrict yourself to these 7 nuts only. In addition to nuts, seeds such as flax seeds, pumpkin seeds and sunflower seeds may offer the same heart health benefits. Again moderation is the key – limit your intake to 1 to 2 oz of unsalted nuts per day.
Gloria Tsang is the author of 5 books and the founder of HealthCastle.com, the largest online nutrition network run by registered dietitians. Her work has appeared in major national publications, and she is a regularly featured nutrition expert for media outlets across the country. The Huffington Post named her one of its Top 20 Nutrition Experts on Twitter. Gloria's articles have appeared on various media such as Reuters, NBC & ABC affiliates, The Chicago Sun-Times, Reader's Digest Canada, iVillage and USA Today.