How Healthy Snacking Helps Your Diet
For a lot of folks, a new year inspires renewed attention to diet. But all food-related resolutions don't have to be about just losing weight! Why not let the opportunity for a fresh start encourage simple changes and meaningful improvements to the quality of your diet? And if you drop a few pounds, bonus for you! An easy way to get started is by adding healthy snacks to your day.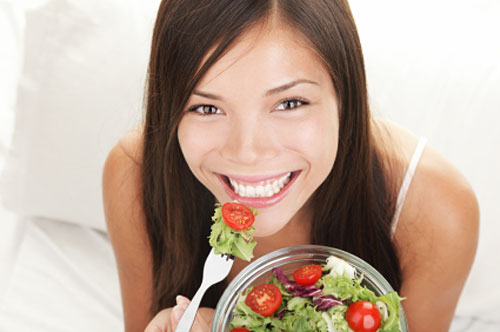 Ready to Make Some Changes? Learn about Five Ways Healthy Snacking can Kick Off Diet Success!
Manage Hydration
Staying properly hydrated is critical to general healthy body function – and weight loss, too. But if you're busy with other things during the day (and who isn't?) it can be hard to remember to stop and sip. While keeping a BPA-free water bottle by your side is helpful, adding a cup or two of water or seltzer to mid-morning and afternoon snacks ensures more opportunities for hydrating. Think of it this way: if you drink water with three meals and two snacks a day, you'll make a good dent in your daily water intake – and that's not even counting the foods that healthy snacking can add to your hydration goal! Snacking on low-sodium soups, or fruits and veggies, for example, can help you stay hydrated, too.
Squeeze in Key Nutrients
If it feels daunting to take in the recommended daily 5-9 servings of fruits and veggies – let alone the three suggested servings of dairy – why not allow healthy snacking to help you fit them in? By choosing wholesome snacks (think string cheese and red pepper strips, a crunchy apple with a smear of almond butter, or carrot sticks and hummus) you'll get a powerful nutrient punch that adds to your tally. The best snacks boast protein plus carbohydrates, and stick to about 100-200 calories. Leave empty calorie snacks – like 100 calorie cookie packs – on the shelf; they'll only leave you hungry for more and won't help add important nutrients to your diet.
Make Better Decisions
Everybody's done it: let too much time pass between meals or snacks only to overeat at the next opportunity. With strategic, healthy snacking, you'll likely take in fewer calories during meals since you won't give your body an opportunity to get outrageously hungry. Aim to eat a meal or small snack every 2.5-3 hours to keep your blood sugar on an even keel; when mealtime rolls around, you'll make smart choices with your head, not decadent ones with your stomach.
Motivate Physical Activity
If you're feeling hungry, how will you find the motivation to work in exercise? If losing weight is your goal, it may seem counterintuitive to eat more to lose more. But the truth is, sending a steady stream of the right kind of nourishment through your body keeps your energy levels up, and can nudge you to lace up your sneakers. Great pre-workout snack options include a yogurt and fruit smoothie or a simple banana. Plus, healthy snacking provides the fuel you need to push your body at a higher intensity for a longer period of time – and that means you'll burn more calories!
Take Pressure Off Mealtime
Based on several studies, most nutrition experts agree: Breakfast eaters tend to eat fewer calories during the day, plus they're more likely to have a lower body weight than those that skip the morning meal. But if you're not often hungry for breakfast, what to do? Instead of thinking of breakfast as a sit-down meal, think in terms of two small snacks, like a whole grain cereal bar on your way to work, then a small banana and fat-free milk mid-morning. By eating breakfast, even if you "snack" your morning meal, you'll have something satisfying in your belly, which protects against the sway of a disastrous fast-food lunch.
The Bottom Line
Improving your diet can be accomplished through small, easy-to-manage steps. Adding in a couple of snacks can be a great start to your new year's goals! As long as you keep portions in check and the foods you choose healthful, you may be surprised to see how just a couple of thoughtful snacks can jumpstart positive changes to your intake!

Alumni: University of Tennessee, Knoxville – Beth Sumrell Ehrensberger is a Registered Dietitian and holds a Master Degree in Public Health. An experienced nutrition counselor, writer and public speaker, Beth specializes in translating complex nutrition information into practical concepts. Beth was awarded a Nutrition Communications Fellowship to the National Cancer Institute, and has worked on the internationally recognized Nutrition Action Healthletter of the Center for Science in the Public Interest.