Pizza: Surprising Ingredients You Should Worry About

Despite the flurry of media reports, the U.S. Congress did not declare pizza to be a vegetable. What actually happened is that school lunch regulations now count 2 tablespoons of tomato sauce or puree (as would be found on pizza) as a vegetable serving, while the serving size for all other vegetables is a half-cup. Critics claim that this gives the food manufacturers an easy way out in meeting the required number of fruit/vegetable servings in school lunches. Regardless of where you stand on the issue, the whole argument misses the real point: There are things about pizza you should be paying attention to beyond the serving size of the tomato sauce.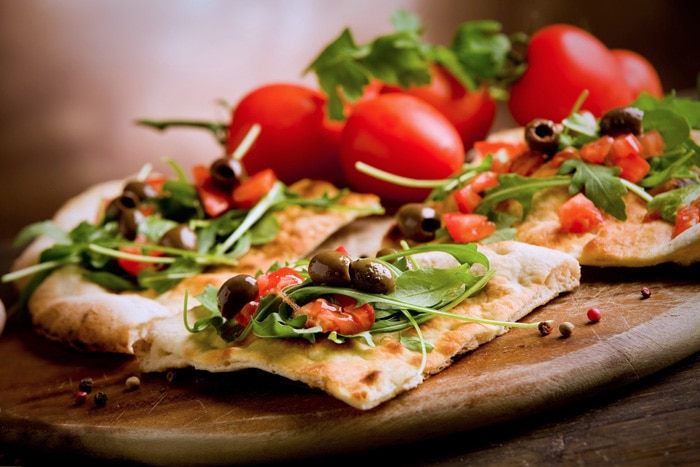 Is Tomato Paste or Sauce A Bad Thing?
It is obvious that tomato sauce or paste is not the same thing as a fresh tomato, but is it bad for you? It depends. Tomato sauce or puree in its most basic form is great; the heat treatment associated with processing actually allows the antioxidant lycopene to be better absorbed by the body. On the flip side, some brands have a very high amount of sodium per serving. It pays to be a label reader, since sodium levels vary significantly. Eden Foods' Pizza Sauce clocks in at 75 mg sodium per 2-tablespoon serving. However, Classico Pizza Sauce has basically twice as much sodium (160 mg per serving). From our research, pizza sauces typically contain twice as much sodium per serving as tomato sauces, even when made by the same company. Your best bet? Use crushed tomatoes out of a jar (usually made with tomatoes and nothing else, or sometimes a few herbs) and skip the salt. You'll be using cheese as a topping anyway, so you won't miss the salt in the tomato sauce.
​The Worst Offender: Pizza Dough/Crust
​The worst offender in pizza is really the crust! Commercial pizza crust often contains partially hydrogenated oils and is high in sodium. A quick look at the ingredient list will reveal the partially hydrogenated oils (typically soybean, cottonseed, or palm oils), which means harmful trans fats lurking in the crust even if the Nutrition Facts label shows zero trans fats.
For a sky-high sodium example, the ready-to-bake Pillsbury Classic Pizza Crust contains 470 mg sodium in just 1/6 of the crust. Most adults we know can easily consume an entire small pizza, and you're easily getting hit with 50% or more of your daily sodium allowance after just a couple of slices (and that's before any salty toppings are added). Your best alternative? Make your own dough, or use whole wheat pita bread or tortilla as crust. For example, Garden of Eatin' Whole Wheat Tortillas contain 3 g fiber and 130 mg sodium per tortilla.
​The Bottom Line
In its most basic form, pizza consists of only three ingredients: a crust, tomato sauce, and a topping. Most pizza eaters consider the toppings to be the highlight of the meal, with the base and sauce complementing what goes on top. Unfortunately, this means the pizza crust and sauce tend to get overlooked. Be smart about your pizza crust and tomato sauce choices so they truly complement your stellar toppings from both the nutritional and culinary points of view.

Alumni: University of California, Berkeley – Sofia believes in bringing back fun and pleasure into everyday eating. She loves cooking, and is constantly experimenting with ingredients, creating recipes and trying them out on family and friends. Her latest interest lies in finding realistic and practical ways of environmentally-friendly food/eating habits.