Last Updated on:
March 22 is World Water Day. The United Nations declared World Water Day in 1993, and every March 22 since, they have focused their efforts on implementing recommendations that impact the world's water resources.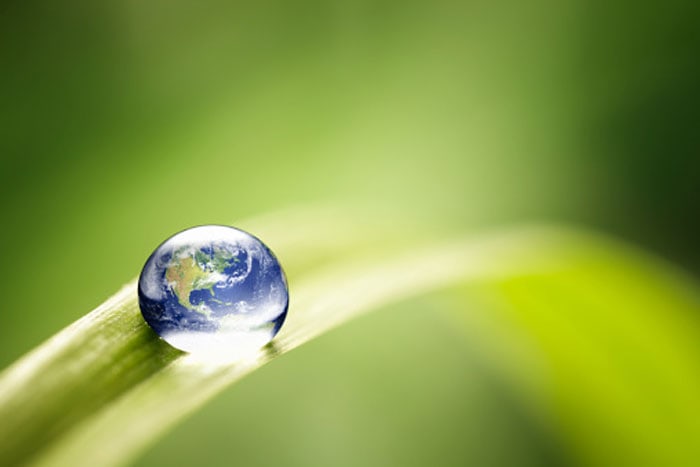 Every year, there is also a theme so that people around the world can learn about issues related to the world water supply, including ways to protect and preserve it. This year's theme is "Water and Food Security." The goal is to focus on creating food security for the world's growing population by reducing the amount of water needed to produce the foods we eat every day.
World Water Day organizers are asking people around the world to take four simple actions to reduce the amount of water needed to produce the food we eat:
Consume less water-intensive products.
Reduce food wastage.
Produce more food, of better quality, with less water.
Follow a healthier diet.
We talk about eating a healthier diet every day on HealthCastle.com, so today we'll focus on points 1 and 2: consuming less water-intensive products and reducing food wastage. The good news is that both of these actions actually lead to healthier eating!
Consume Less Water-Intensive Products
The excellent news about focusing on consuming less water-intensive food products is that it puts you on a path to eating healthier. Here are two key ways to do it.
Eat Less Processed Food
Manufacturing processed food consumes huge amounts of water. For one thing, water is used to create the plastic many processed foods are packed in: 24 gallons of water are needed to create one pound of plastic. Plus, it's used in the processing itself. It takes 9 gallons of water to process just one can of fruit or vegetables, 1 gallon to process a quarter pound of hamburger, and over 28,000 gallons to process one ton of sugarcane into sugar. (For reference, running your dishwasher consumes 9-12 gallons of water.)
Eat More Vegetables
According to the Food and Agriculture Organization of the United Nations,  it takes 15,000 liters of water to produce one kilo of beef, but only 1,500 liters to produce one kilo of wheat. It's clear that meat products take much more water per ounce to create than veggies. You don't have to stop eating meat, but remember that the meat serving should only occupy one-quarter of your plate.
Reduce Food Wastage
Thirty percent of the food worldwide is never eaten. That wastes both critical food resources and the water used to produce them. Closer to home, food waste also needlessly bumps up your grocery budget. Here are some easy ways to cut back on food waste in your kitchen.
Think About Portion Size
If your recipe says it serves 6, and you're a household of 2, try cutting the recipe in half to avoid excessive overeating. This also helps you avoid a freezer full of leftovers that never get eaten. On that note…
Check the Freezer Before You Order Takeout
Just about everyone's freezer has some leftovers waiting to be eaten, so make it a habit to check for easy-to-heat-up dinner options before dialing for greasy pizza. You'll get a healthier dinner, and less of your leftovers will go to waste.
Shop With a List
Grocery shop with a list based on what you plan to eat that week so you're not tempted by items that are on sale but that you don't know how to use, or don't like to eat, which may end up getting shoved to the back of the fridge and going to waste. You'll also avoid buying tempting junk food products that you either avoid (and waste) out of guilt, or end up scarfing down at the end of a hard day.
Act Like Your Grandmother and Save Scraps
We routinely throw out all kinds of things our grandmothers would have found ways to use. The three easiest ways to reduce waste by thinking like Grandma are:
Don't toss veggie scraps: Instead of throwing out vegetable scraps like carrot and potato peels, keep them in a bag or container in the fridge until you have enough to make veggie stock.
Save butter wrappers: When you are finished with a stick of butter, fold the wrapper into quarters and put it in the freezer. The next time you bake, you'll have the perfect amount of butter ready to go to grease your pan.
Repurpose stale bread: If you don't finish bread before it goes stale, throw it into the freezer. You can use it later in stuffing, or run it through the food processor to make breadcrumbs. Or, go for a traditional use of stale bread and make bread pudding for dessert.
Take Advantage of Modern Gadgets
From apps for your smartphone to specialized food storage items, there are plenty of modern ways to ensure the food you buy stays fresh until you have a chance to eat it.
The Bottom Line
Reducing the amount of water used to produce the foods you eat is surprisingly simple, and if you focus on healthy eating, you're moving in the right direction, since healthier foods tend to require less water to produce. Try incorporating a few steps to reduce food wastage, too, and you'll be helping to preserve the world's water supply and trimming your grocery budget. If you want to calculate your water footprint, you can do so at H2OConserve.org.

Christina Newberry is a writer and editor whose work has appeared in national and local magazines and newspapers. With a Bachelor's degree in English and Anthropology from the University of Victoria and a Journalism Certificate from Langara College, Christina brings keen curiosity and the love of a good story to her work with HealthCastle.com.
Christina is a passionate traveler and urban gardener with an interest in vegetarian eating and making good, tasty food from scratch. Sharing lessons learned from her own experiences, Christina writes about lifestyle topics for HealthCastle, with a focus on eating well at home and on the road.