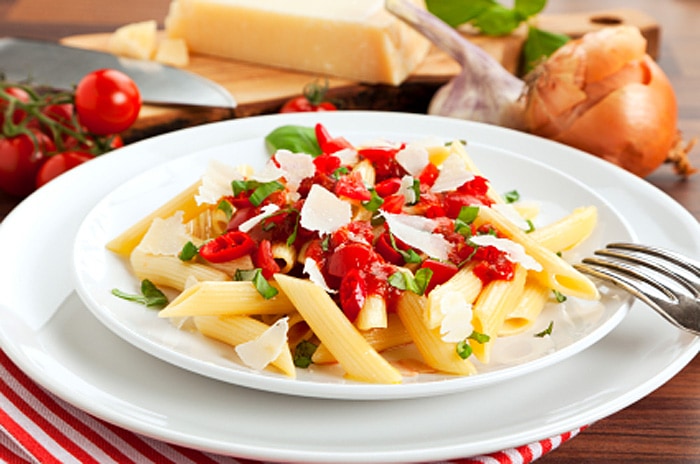 Italian food is comfort food for most North Americans. We love to get our hands on big, thick slices of pizza oozing with cheese, and slurp up huge plates of noodles bathing in creamy sauce. But did you know that most of the carb- and fat-heavy creations that we think of as Italian food would never be found in Italy? You can enjoy much healthier versions of Italian food by eating like Italians do.
Top 4 Italian Foods Done Italian Style
Pizza: Real Italian pizza is made with a crust so thin you can't pick it up without folding it in half – and certainly no stuffed crust options are available! The classic Italian pizza has just three toppings: Tomato sauce, good mozzarella cheese, and fresh basil. Many other varieties are available, but the common thread is a few quality ingredients. You might find quality Italian ham on a pizza, but it won't be accompanied by four other kinds of meat!
Pasta: Sauces are full of flavor, which comes from fresh olive oil and quality, flavorful ingredients like saffron, basil, garlic, porcini mushrooms, local meats and fish, and so on – so they don't need to be used in huge quantities. The American version of Fettuccine Alfredo, packed with cream, is not found in Italy. The Italian version is "Pasta al burro" (pasta with butter), and it's simply fresh noodles tossed with a bit of butter and fresh Parmesan cheese.
Salad: Think Caesar salad is a typical Italian dish? Think again – it's an American invention. Italian salads usually feature lettuce or other greens with fresh tomatoes, often with fresh cheese and basil. Olive oil and balsamic vinegar are brought to the table along with salt and pepper to dress the salad, and that's all. No creamy dressings to be found!
Bread: In Italy, the purpose of bread with a meal is to soak up any delicious sauces left on your plate. It's certainly not served as a side dish, like the oil-and-butter-soaked garlic bread we're used to, or the chewy "bread sticks" accompanied with creamy sauce served up at pizza joints. In Italy, in fact, bread is not served with any butter at all, or even the olive oil and balsamic vinegar often used for dipping bread in Italian restaurants in America. Oil and vinegar are only brought to the table for salads!
The Bottom Line
Italian food American style is big on fat, carbs, and calories. Why not try incorporating these real Italian cooking traditions into the way you enjoy Italian food: Focus on good, fresh ingredients, use just a few at a time, and never bury anything in sauce. Every ingredient should be delicious, so no gooey toppings and sauces are needed to make these items taste good!

Christina Newberry is a writer and editor whose work has appeared in national and local magazines and newspapers. With a Bachelor's degree in English and Anthropology from the University of Victoria and a Journalism Certificate from Langara College, Christina brings keen curiosity and the love of a good story to her work with HealthCastle.com.
Christina is a passionate traveler and urban gardener with an interest in vegetarian eating and making good, tasty food from scratch. Sharing lessons learned from her own experiences, Christina writes about lifestyle topics for HealthCastle, with a focus on eating well at home and on the road.