By: Keeley Drotz, RD
Last Updated on:
At the end of an exhausting day, the last thing a mom wants to do is spend time preparing dinner. On those extra-busy days, put together a meal that doesn't require a lot of preparation or special ingredients, and involve your kids – it makes dinner fun for them, so they're more likely to eat it.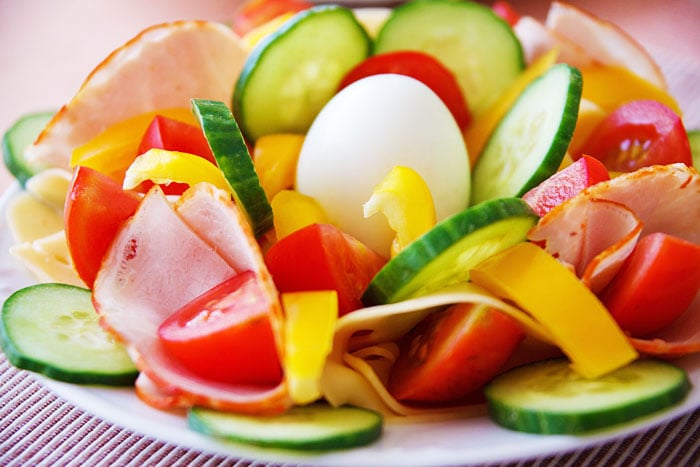 3 Easy Family Dinner Ideas
1. Taco Bar
Use whole wheat or other whole-grain soft tortillas and extra-lean ground beef or turkey cooked with taco seasoning. The meat can be cooked ahead. of time, stored in the refrigerator or freezer, and reheated.
Filling ideas: shredded lettuce, chopped tomatoes, chopped green or red bell peppers (or hotter varieties), shredded cheese, low-fat sour cream, low-fat ranch dressing, and salsa or pico de gallo.
Kids, especially younger ones, may need help wrapping their taco once they've filled it.
For easy sides, serve baked tortilla chips with salsa or pico de gallo, and fruit canned in juice or extra-light syrup.
2. Top Your Own Loaded Baked Potato
Bake potatoes in the oven or microwave.
Topping suggestions: diced lean ham, sliced fresh chives and/or green onions, diced tomatoes, shredded cheese, lo-fat sour cream, low-fat ranch dressing, and salsa or pico de gallo.
To accompany the potatoes, offer cooked vegetables such as spinach, broccoli, or carrots (fresh or frozen with no salt added), and fresh fruit.
3. Create an Individual Gourmet Salad
It's easy to include all of the food groups in this meal. Get creative with salad greens: use regular or baby spinach leaves, a spring mixture, and/or a different type of lettuce such as Romaine. If you're pressed for time, use bagged greens. Additionally, you can prepare the ingredients yourself or buy them at the store ready-to-go. Provide a selection of low-fat salad dressings to make it more interesting.
Protein: strips of lean chicken or turkey breast (plain or flavored), sliced eggs, chopped or sliced unsalted nuts such as almonds, walnuts, pecans.
Dairy: cubed or shredded cheese.
Vegetables: grape or cherry tomatoes, strips of bell peppers (red, green, orange, yellow), grated carrots, sliced mushrooms, sliced olives.
Fruit: finely chopped apples, halved grapes, mandarin orange segments (fresh or canned), sliced pear, dried cranberries, raisins (try golden).
Grains: serve a special type of whole-grain bread that you bake in your bread-maker or pick up in the fresh bakery section at the grocery store.
Extra Family Dinner Tips
Depending on their age and ability, you may be able to allow children to help in your meal preparation. For example, when making tacos, young children can tear up the lettuce, older kids can shred the cheese, and teenagers can chop tomatoes.
Place all of the toppings in serving dishes with appropriate-sized spoons: use smaller spoons in cheese and sour cream, medium spoons in meat, and larger spoons in vegetables. Put the dishes on the table or other serving area where kids can easily reach. Give children their item to fill (taco shell, baked potato, bowl of salad greens) and allow them to top it as desired. Warning: it will be messy, but kids will "eat it up"!

Keeley graduated Summa Cum Laude from Seattle Pacific University with a Bachelor of Science in Food and Nutrition and a Dietetics Specialization. She went on to complete her dietetic internship at Baylor University Medical Center in Dallas, where she received the Distinguished Dietetic Intern Award and Scholarship.