Written By: Beth Ehrensberger, RD
Last Updated on:
Fish is a super-healthy choice, no doubt about it. But somehow, it seems, when you're making home meal selections, fish just never seems to end up on the menu. Instead, you're more likely to choose beef, pork, or chicken. Though lean cuts of meat are definitely part of healthy eating, adding fish to the weekly meal lineup can add high protein, low saturated fat variety to your diet. Plus, some fish, like salmon and trout, for example, are loaded with heart smart omega 3 fatty acids.
Maybe you pass on fish because you're not fond of the flavor or texture – or perhaps you like it, but only when it's fried. Whatever your reason for not eating healthy fish, there are great ways to change your taste to add more seafood to your diet. In fact, cooking delicious fish at home is easier – and tastier – than you may think.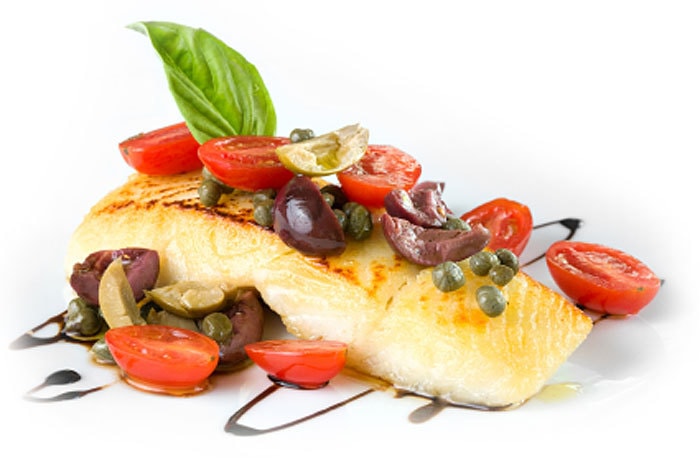 To Market, To Fish
Before you start thinking recipes, think shopping. For the fish-wary, go with fresh instead of frozen. Fresh fish means less safe-thawing guesswork, plus, you'll be less likely to encounter olfactory offense since a fresh catch shouldn't smell fishy at all. Rather, it should have a light marine scent. When shopping, find a reputable fishmonger who can help match your tastes to the many types of fish available. An experienced fishmonger can also help you find a mild fish, like tilapia, if you don't like strong flavors, or a firm fish, like tuna, if it's the soft texture that you don't like. Then, finally, when you've made a selection, give one of these preparation tips a try.
How To Cook and Add Flavor to Fish
Top it off:Whether you grill, broil, or bake your fish, a tasty topping can add a grand finish. Try a spicy mango salsa to zest up a grilled mahi mahi fillet, or finely chopped tomatoes and capers to top tuna. If cool and creamy is your thing, drop a dollop of nonfat Greek yogurt, chopped cucumbers, and fresh dill atop a grilled wild salmon fillet.
Give it texture:If you love the crunch of fried fish, but it does not fit your diet, try adding a crisp and flavor-packed coating. Dip a mild fish fillet, like flounder, into a beaten egg white, then dredge in bread crumbs or Panko (Japanese breadcrumbs that have more crunch than the standard variety) and herbs, then bake. Also, commercial seafood rub and a brush of olive oil can add healthy texture to a pan-seared fish fillet.
Make a Marinade:Before you send your fish to the grill, jazz it up with a dip in a store-bought or homemade marinade. Lemon pepper, teriyaki, and Italian blends are great complements to most fish. But simple combinations of citrus juice, olive oil, and a few herbs make easy and delicious choices, too.
The Bottom Line
With so many fish in the sea, it's easy – and delicious – to add fish to the menu and to your diet. Just keep an open mind and be sure to experiment until you find the best catch for your taste!

Beth Sumrell Ehrensberger is a Registered Dietitian and holds a Master Degree in Public Health. An experienced nutrition counselor, writer and public speaker, Beth specializes in translating complex nutrition information into practical concepts. Beth was awarded a Nutrition Communications Fellowship to the National Cancer Institute, and has worked on the internationally recognized Nutrition Action Healthletter of the Center for Science in the Public Interest.