Tuna: Health Benefits and How-To
This month we are talking about tuna. While tuna appears regularly on sushi menus, the most-consumed type in the U.S. remains canned tuna. Typically, canned tuna is either "white" (albacore tuna) or "light" (any one, or a combination, of the following: skipjack, yellowfin, or tongol tuna).
​Mercury Concerns
When it comes to canned tuna, albacore generally contains higher mercury levels than canned light tuna. For a given serving, canned light tuna on average contains 1/3 of the mercury found in albacore tuna. The canning process itself doesn't affect mercury content. Some of the premium brands that abide by sustainable seafood practices regularly test their tuna for mercury and report the results, such as Wild Planet Seafood (based in Seattle, WA) and Estevan Tuna and Rainforest Trading Company (in British Columbia, Canada).
Nutritional Information for Tuna
A 3-oz serving of canned light tuna in water, drained (the typical amount in a small single-serve can or packet) contains:
Calories: 99 kcal
Fat: 0.7 g
Carbohydrates: 0 g
Protein: 21.7 g
Fiber: 0 g
Glycemic Index: Low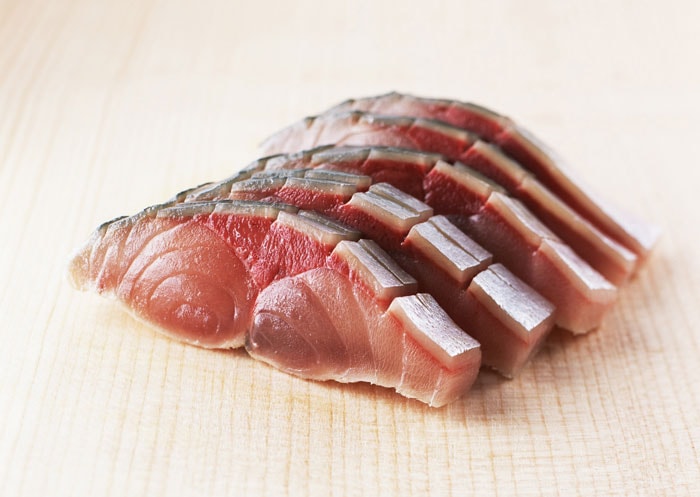 Tuna is known to be a great source of the omega-3 fatty acids EPA and DHA. These omega-3 fatty acids have been shown to benefit cardiovascular health, and the anti-inflammatory benefits extend as far as the lungs (protective against childhood asthma), the brain (protective against Alzheimer's disease and cognitive decline), and the joints (protective against arthritis). Omega-3 fatty acids have also been shown to have anti-cancer properties. In addition, tuna also contains selenium, a component of a powerful detoxifying enzyme in our bodies called glutathione peroxidase. To top it off, tuna is also a good source of some B-vitamins, including folate, important in the closure of the neural tube in the developing fetus.
How much DHA or EPA is needed to make a difference? As little as the amount found in two servings of tuna a week. The amount varies by tuna species: A 3-oz serving of canned light tuna contains 0.04 g EPA and 0.19 g DHA, while albacore clocks in at 0.198 g EPA and 0.535 g DHA.
Fresh or frozen tuna steaks are sometimes sold at retail. These steaks are fragile and need to be consumed fairly soon after purchase. If you are keeping fresh tuna in the fridge, it is best to lay the packed tuna over a bed of ice in the coldest part.
Canned tuna comes packed in water, oil, or broth. When using canned tuna, pick the type packed in water. If you are able to spend more money on the premium brands, the texture is firmer because the tuna flesh is packed raw into the cans and cooked only once. (Mass-produced canned tuna typically gets cooked twice – once as a whole fish to make it easier to de-bone, and again once the flesh has been packed into cans.)
​Ways to Add More Tuna to Your Diet
Make tuna patties or add to meatballs
Make the popular Pad Thai dish with Clover Leaf's new Spicy Thai Chili Tuna instead of chicken
Use canned tuna and leftover rice to make onigiri, Japanese rice balls
Tuna and eggs go great together: Add tuna to omelets or frittatas, or make this Crustless Tuna Quiche
Wow your dinner party guests with Pan-Seared Tuna

Alumni: University of California, Berkeley – Sofia believes in bringing back fun and pleasure into everyday eating. She loves cooking, and is constantly experimenting with ingredients, creating recipes and trying them out on family and friends. Her latest interest lies in finding realistic and practical ways of environmentally-friendly food/eating habits.
dha, epa, fish, grocery aisle, healthy every month, mercury, omega-3, tuna
Nutrition Faceoff: Quaker Quick Oats vs. Instant