Written By: Christina Newberry
Last Updated on: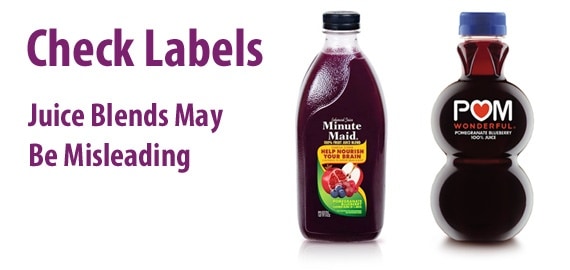 If you picked up a product called Pomegranate Blueberry Flavored Blend of 5 Juices, what would you expect it to contain? The name tells you, of course, that there are five juices in the mix, two of which should clearly be pomegranate and blueberry. So you might be surprised to learn that only 0.5% of the juice in the bottle comes from one of those fruits (0.3% pomegranate and 0.2% blueberry). In fact, according to a recent Supreme Court opinion, more than 99% of the blend is apple and grape juice, with 0.1% raspberry juice rounding out the mix.
Why is the Supreme Court writing about the ingredients of a juice product? It's because POM Wonderful, makers of pomegranate juice products, wanted to sue Coca-Cola over the naming of this juice blend, sold under its Minute Maid brand. Because of confusion about which rules apply for food labels, POM had to go all the way to the Supreme Court just to determine whether it would actually be able to sue Coca-Cola for what it describes as a misleading label. The Supreme Court decided in a unanimous decision that the suit could go ahead.
Know What You Buy: Read the Label
The lesson for consumers here is to read labels carefully, and not to be fooled by product names or graphics on the label. Let's take a look at the Minute Maid and POM Wonderful Pomegranate Blueberry products.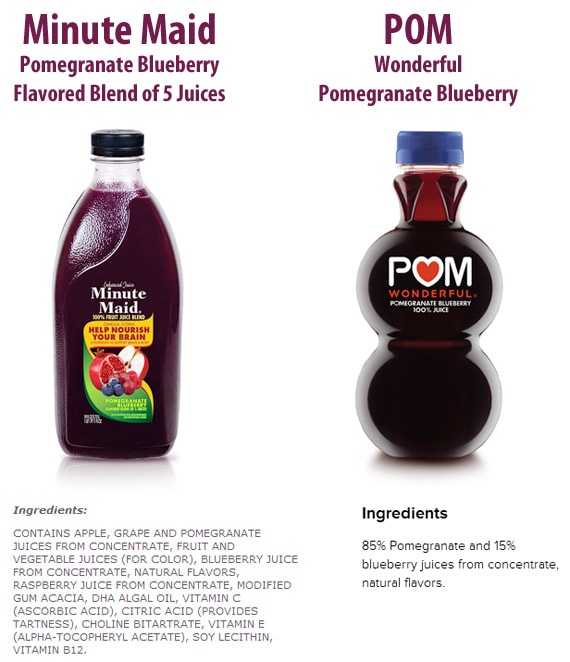 These products look very similar, and from glancing at the labels, you might think they are essentially the same product sold by different brands. But take a look at the ingredients:
Minute Maid Pomegranate Blueberry Flavored Blend of 5 Juices
Contains Apple, Grape and Pomegranate Juices From Concentrate, Fruit and Vegetable Juices (For Color), Blueberry Juice From Concentrate, Natural Flavors, Raspberry Juice From Concentrate, Modified Gum Acacia, DHA Algal Oil, Vitamin C (Ascorbic Acid), Citric Acid (Provides Tartness), Choline Bitartrate, Vitamin E (Alpha-Tocopheryl Acetate), Soy Lecithin, Vitamin B12. (Source: Minute Maid)
POM Wonderful Pomegranate Blueberry
85% Pomegranate and 15% Blueberry Juices From Concentrate, Natural Flavors. (Source: POM Wonderful)
The Bottom Line
There's a huge difference between 100% pomegranate and blueberry juices and 0.5% pomegranate and blueberry juices. If you're just looking for a tasty juice product and you like the flavor of the Minute Maid version, there's no harm in buying it – there's nothing wrong with apple and grape juices. But if you're specifically looking for a pomegranate or blueberry product, the Minute Maid product is not the right choice. The Minute Maid ingredients list doesn't tell you the percentages of each juice, but it does show that apple and grape juices are the first ingredients. As always, reading the ingredients list is the best way to ensure you know what you're really putting in your grocery cart – and in your body.

Christina Newberry is a writer and editor whose work has appeared in national and local magazines and newspapers. With a Bachelor's degree in English and Anthropology from the University of Victoria and a Journalism Certificate from Langara College, Christina brings keen curiosity and the love of a good story to her work with HealthCastle.com.
Christina is a passionate traveler and urban gardener with an interest in vegetarian eating and making good, tasty food from scratch. Sharing lessons learned from her own experiences, Christina writes about lifestyle topics for HealthCastle, with a focus on eating well at home and on the road.