No Cook Chia Seed Pink Pudding Recipe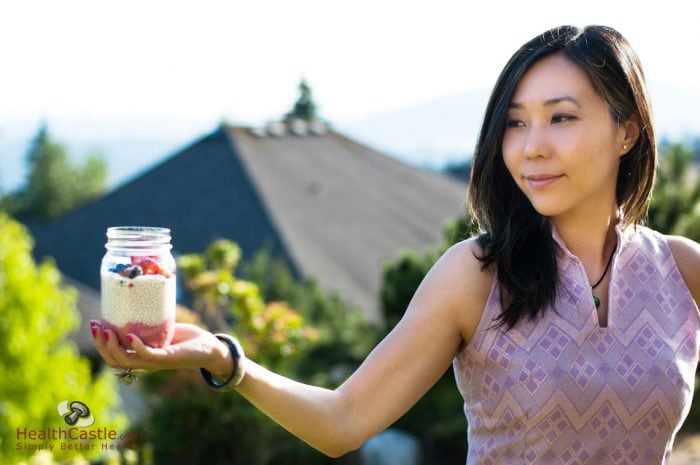 By now all you of should have tried flaxseeds. What about chia seeds? You can certainly eat them raw, but you can actually make a raw no-cook dessert from chia seeds.
Similar to flaxseeds, chia seeds are rich in protein and omega 3. In fact, chia seeds have higher levels of fiber and calcium.  Only two tablespoon of chia seeds can provide 7 grams of fiber. That's equivalent to eating two bundles of broccoli! In addition, scientists also found that chia seeds can aid manage blood sugar in people with type 2 diabetes, making these tiny seeds instant super foods!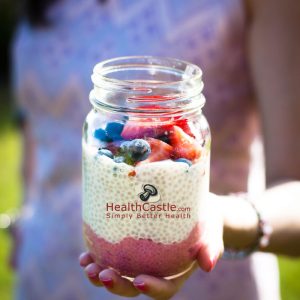 No Cook Chia Seed Pink Pudding Recipe
Ingredients
For Raspberry Flavor
1

cup

Raspberries (fresh or frozen)

½

cup

Milk

2

tbsp

Maple Syrup

3

tsp

Chia seeds (white)
For Vanilla Flavor
½

cup

Greek yogurt (plain)

½

cup

Almond milk (unsweetened or original flavor)

2

tbsp

Maple Syrup

2

drops

Vanilla Extract

2

teaspoons

Chia seeds (white)
Instructions
For Raspberry Flavour: Blend raspberries, milk and maple syrup in a blender. Pour mixture in a mixing bowl and mix in with chia seeds. Refrigerate the mixture for at least one hour. Stir occasionally.

For Vanilla Flavour: In another mixing bowl, stir Greek yogurt, almond milk, maple syrup and vanilla extract. Mix in chia seeds. Also refrigerate this vanilla mixture for at least one hour. Stir occasionally.

After refrigeration, place the raspberry chia seed pudding in a mason jar, then followed with vanilla pudding. Top with fresh strawberries and blueberries to serve.

Alumni: University of British Columbia – Gloria Tsang is the author of 6 books and the founder of HealthCastle.com, the largest online nutrition network run by registered dietitians. Her work has appeared in major national publications, and she is a regularly featured nutrition expert for media outlets across the country. The Huffington Post named her one of its Top 20 Nutrition Experts on Twitter. Gloria's articles have appeared on various media such as Reuters, NBC & ABC affiliates, The Chicago Sun-Times, Reader's Digest Canada, iVillage and USA Today.