Commercial vs. Homemade Baby Food
Commercial baby foods used to be a convenience; today, they are a staple. It is very common to serve manufactured baby food rather than make our own. Is this the best choice? Is it healthy for our babies?
The Truth About Commercial Baby Foods
The concept of mass-producing food for babies is not natural, even if the ingredients are "natural." Commercial baby foods are very processed and lack the freshness of foods made at home; for example, manufactured baby foods don't expire for more than a year (stored in the pantry), whereas homemade baby foods last about three months in the freezer.
Additives: Commercial baby foods often contain additives, such as ascorbic or citric acid, which do not naturally occur in the food and are not necessary in the homemade version. Flour (usually rice) is a common additive. Water is the first ingredient in many foods manufactured for older babies and toddlers. While water may be added for texture and consistency, it should not be the first ingredient, especially in foods for older infants.
Sweets: Desserts – and some breakfast and snack items – are very sweet and should not be consumed by infants or young children. This is true even when "natural" sugar is used or there is no sugar added.
Safety: In some cases, commercial baby foods may not be safe. For example, Gerber recalled its Organic Rice and Oatmeal Cereals due to a possible choking hazard. This is not the only instance of a baby food recall.
Toddler Foods: Many toddler foods contain added salt or sugar and are full of additives. Besides that, eating out of a tray or tub is not a good habit for these impressionable young children to develop.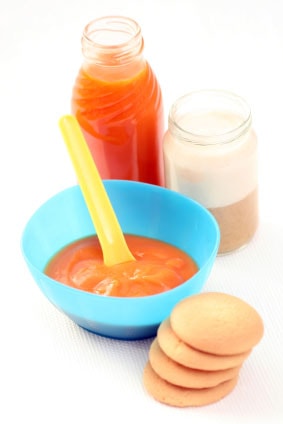 Is Organic a Better Option?
Although the organic ingredients may be better for your baby, organic commercial baby food is still mass-produced. Organic or not, your baby is being fed highly processed food straight out of a jar.
Homemade Baby Foods
It's not difficult – or extremely time-consuming – to make baby food at home, especially in batches. It is also far more cost-effective to make baby food at home than to buy commercial varieties. You can learn easy ways to prepare both cooked and uncooked.
Two Commercial Baby Foods We Like
Jack's Harvest Frozen Organic Baby Food is marketed for those who lack the time to make their own. It is handmade in small batches, 100% organic, and contains no preservatives.
Beech Nut Let's Grow! Toddler Foods promise "no junk," including less sodium and no high fructose corn syrup or added refined sugar. Use occasionally, such as when you and your toddler are away from home for a long period of time.
The Bottom Line
Just as adults shouldn't eat all of our meals straight out of a can or box, it's not healthy for babies and toddlers to regularly consume processed, packaged baby foods. It is acceptable to use manufactured baby food occasionally, just like it's okay to eat fast food or a frozen dinner once in awhile. When on-the-go or traveling, the safest, healthiest option may be a jar of baby food. But this should be the exception, not the norm.

Alumni: Seattle Pacific University – Keeley graduated Summa Cum Laude from Seattle Pacific University with a Bachelor of Science in Food and Nutrition and a Dietetics Specialization. She went on to complete her dietetic internship at Baylor University Medical Center in Dallas, where she received the Distinguished Dietetic Intern Award and Scholarship.
baby food, food additives, organic
Blueberries: Health Benefits and How-To